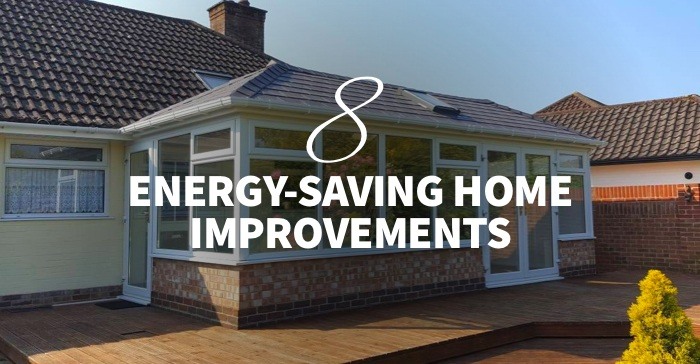 Every homeowner wants to improve their home, whether it's for value purposes, aesthetics, functionality or efficiency (or all of the above).

As the UK becomes more energy conscious year-on-year, energy-saving home improvements have soared in popularity.

If you're unsure of how energy-saving home improvements could help you, here are four potential benefits:

Help the environment – the government is trying to reduce the UK's carbon footprint and the amount of fossil fuels we use. A significant proportion of those fossil fuels come from the energy we burn in our homes, so you'd be contributing to the reduction goal by making your home more energy-efficient.
Save money – saving energy = saving money, and who doesn't want to save money? The average UK energy bill is around £1200 a year, so knocking off a few hundred pounds is going to benefit you.
Increase resale value – if your house has features that save future owners money, they're more likely to see it as a worthy investment. Also, younger homeowners are exposed to green messaging from an early age, so becoming more energy-efficient is more attractive to them.
Make your home more comfortable – your home will be warmer, drier and more energy-efficient, which reduces the chances of mould developing and your family contracting any illnesses.
8 Energy-Saving Home Improvements & How Much They Cost

1. Insulate Your Loft

Loft insulation is a protective barrier of material which usually lies within the joists of the roof of your loft, joists in the loft floor, or both. The material allows air to flow through it slowly, so you retain heat in winter and cool air in summer.

If your loft is poorly insulated, you could be wasting lots of energy. You could be losing up to a quarter of the heat circulating in your home if you don't insulate your loft – you may notice a few pigeons basking in the warmth as it rises through the house!

Installing insulation in your loft is a practical way of making your home cosier, and loft insulation lasts for around forty years, so the savings will outweigh the cost.

You could install loft insulation yourself for £100-200 or get a professional to do it for £300-500, the price will vary depending on the size of your home.

Further Reading: The Ultimate Guide to Loft Installation

2. Upgrade Your Boiler

Your boiler is the heartbeat of your home. It keeps your central heating and hot water running and is dedicated to keeping your home warm. Also, it's responsible for up to 60% of your energy bill, so it makes sense to ensure you have the best boiler you can get.

If your boiler is old, has a low energy grade or keeps breaking, it could be time to switch. Your boiler is also responsible for around 60% of the carbon emissions from your home, so you would be helping to reduce your carbon footprint by switching to a new boiler.

There is a range of new energy-efficient boilers that could save you money, with an energy rating of A to G.

A new boiler system usually costs around £500-2500, but it depends on the quality of the boiler and whether it works well with your current heating system. It's a good investment if you have the outlay of cash for the boiler and the installation, although you can pay for the boiler on a payment plan.

3. Utilise Your Conservatory

Conservatories can prevent your home from experiencing heat loss. However, this depends on how it's built.

The conservatory will provide more insulation to the house, but if you don't use the conservatory in the winter months, you're losing a functional room for 3-6 months of the year. You wouldn't construct a conservatory purely to retain heat and save energy.

If you want to use your conservatory all year round and save energy, consider some of the following options:

Fit a conservatory roof – if you're going to keep your conservatory door open throughout winter, get an insulated roof installed.
Double glazed windows – glass makes up a large portion of a conservatory even with a roof, so ensure your windows are energy-efficient.
Quality doors – if you want to retain heat when you aren't using your conservatory, get a high-quality door that helps trap heat indoors.
A conservatory roof replacement would cost between £2000-£5000, but it depends on the size of the conservatory and whether you choose optional extras like tiling or roof light.
4. Switch to a Green Energy Tariff

According to Citizen's Advice, one in three people feel they don't have enough knowledge to switch energy providers, which means many of us are stuck on a deal that isn't right for us.

But how will switching energy providers save energy, you say? Well, it can if you look for the right deal.

Green energy is generated from renewable sources like wind and solar energy, so you'll be reducing the amount of fossil fuels you use.

However, a green energy plan will still use some 'dirty' energy, and fully renewable plans will end up costing you more than you save. When you check your tariff, look for the details, such as whether the provider has a renewable energy source.

The cost of your green energy tariff will depend on the supplier you use and the amount of energy you use. As we mentioned before the average energy bill is about £1200 per year, so check there are no exit fees from your current provider before you switch as it could end up costing you more.

Further Reading: Green Energy Guide

5. Track Your Energy Use

We're all curious about how much energy we use, whether it's for an energy-saving reason or a financial reason. Trying to dissect your energy bill is like reading Latin scripture!

There are also plenty of myths surrounding energy use, such as having the heat on the highest possible setting, not increasing your heating bill or bigger TVs consuming the same amount of energy as smaller TVs.

While an energy monitor can tell you how much electricity your kettle is using, it'll also give you an idea of how much energy you're using overall so you can track your usage.

An energy monitor can also measure greenhouse gas emissions, savings and the cost of your current energy usage.

While an energy monitor isn't a direct saving tool, using it to measure your energy use will help you cut costs.

The best thing about energy monitors? They're free!

6. Consider Solar Panels

How does the thought of taking energy generation into your hands sound? While you'll only be able to reduce it by about 40-50%, it's still an attractive proposition for those that want to become more independent and energy-efficient.

The main advantage of solar power is that it's renewable, so you won't be using vital fossil fuels. Also, panels don't need much maintenance so you won't have any hidden costs once they're installed.

Solar energy is dependent on the weather, on rainy and cloudy days it won't be as effective, so you'll have to be more conscious with the energy you use. Panels take up lots of space too, and you may not want to ruin the aesthetics of your house.

While solar panels do offer profit, the initial outlay is high and can be anything from £2,000-8,000 depending on the size of your roof.

7. Insulate Cavity Walls

Cavity wall insulation is used to minimise heat loss through property walls by filling air space with a material that inhibits heat transfer.

It's a bit like the clothing, the air gets inside the fibres and prevents heat from passing through, which keeps us warm.

The insulating material works in the same way, as it traps air between the fibres, meaning heat cannot pass through as easily. The more heat your home retains, the more energy you'll save.

A professional installer will charge around £300-750 for cavity wall insulation.

8. Refit Old Doors & Windows

Heat leaving through doors and windows is small compared to walls. To put this into perspective, think about how much wall covers your house. However, you can still lose as much as 20% of heat from your windows and doors.

Double glazing can help with heat loss and noise pollution. It works in the same way as a cavity wall insulation, where the air between the windows prevents warm air from escaping.

Old doors don't insulate as well as new ones either. New doors are often more airtight, but avoid wooden doors if you want to be more energy-efficient.

We'd advise focusing on your walls and loft before doors and windows as you'll lose more heat through them.

Window replacement is expensive and can be anything from £2000 upwards depending on the number of windows you have and the style you choose. A new front door should cost between £750-1250 depending on the door you want.

Here some more tips and tricks that can help you save more energy:
Hang thick curtains
Use insulating tape on doors and windows
Use a water-saving showerhead
Buy energy-friendly appliances
Use an LED nightlight
Use an energy-saving power switch
If you'd like to learn more about conservatory roof replacements, visit our benefits page.