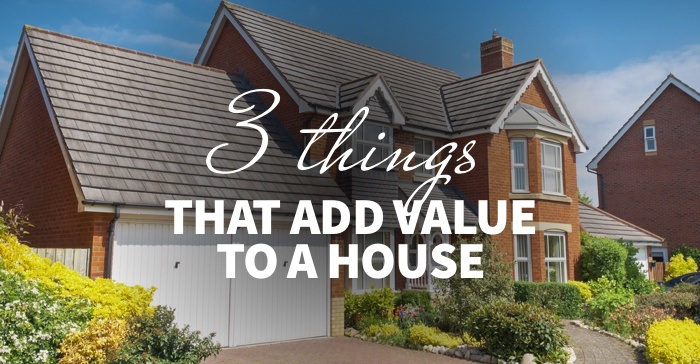 Adding value to your house, every homeowner wants to do it. When property prices are going up, you're a happy bunch!

Most homeowners are unsure what they need to do to increase the value of a property. After all, you aren't just trying to increase the value of your property without a goal in mind.

There has to be something in it for you other than a value increase, such as improving the quality of your life or creating a new living space.

Moreover, you might be trying to increase the value of your home to sell it. If you're trying to sell your property, go for features that add the most value and cost the least amount of money.

We're going to show you three ways you can add more value to your home, including the profit of each improvement.

Note: for this article, we've used data from Zopa, who collected information from customers who took out personal loans for home improvements and gave feedback on their profits, cost and ROI. The data is a representative average. You can view the data here.
1. Build or Convert Your Conservatory – £5,750 Profit


Building a conservatory is the next best thing to having an extension and is cheaper and easier. If your property already has a conservatory, you could add more value by installing a roof to make it into a functional living space.

If you're installing a conservatory, you won't need any planning permission, and you'll be exempt from specific building regulations.

Conservatories offer you extra living space, add value to your existing home and are cheaper than moving house, so they're well worth considering.

If you're thinking about building a conservatory, consider the following:

Purpose
Why are you building the conservatory? Do you want to create extra space for your kids? Do you want more dining space? Knowing the purpose of the room will make it easier to decide whether a conservatory is for you.

Conservatories are made of glass, so if you need it in the winter months, you should consider getting a roof installed. Also, conservatories don't make great living rooms or games rooms as glass is easily broken.

Positioning
You'll want your conservatory in a practical spot; if there's an obstruction, it might make your garden harder to use. Also, the more practical it is, the more chance you'll have of increasing the value of the house. Consider whether your house is north or south facing, north-facing gardens see less sunlight than south-facing gardens.

Materials
While PVCu is the most common option if you're on a budget, there are other more aesthetically pleasing and thermally-efficient materials out there, like hardwood.

Also, your roof doesn't have to be glass. You can explore different types of roofing systems like tiled roofs or solar controlled glass.

Quality
The amount of value added to your home will depend on the quality of the materials used in construction. You have to strike a balance between getting good quality materials and keeping costs down.

Conservatories offer the best ROI on this list and are cheap to build. If you already have a conservatory, you could explore renovation options.

ROI: 108%
Profit: £5,750
Average cost: £5,300

2. Build an Extension – £14,000 Profit

If you want to add bulk value to your house, an extension is the way to go, but it's a huge undertaking.

The addition of another one or two rooms is tempting for most homeowners, but it's a big project to take on if you're selling, and is usually made to create more space for the people that already live in the home.

Also, you'll have to go through planning permission, which can be a lengthy process. However, the building criteria has been relaxed, so getting planning permission is easier.

If you do want to explore extending your home, consider the following:

How to Add the Most Value
Even if you're adding an extension to improve your home life, it's worth remembering that one day you might want to sell your house.

If you do want to add value, you need to ensure that the extension is tasteful. If you don't match your home's current architecture, you could end up with a building that looks imbalanced and unrelated.

You'll also have to consider the layout; an impractical layout is likely to minimise any added value and discourage potential buyers. Try to balance out what you want at the time compared to what a buyer will find appealing in the future.

Rooms that can serve a dual purpose are often the best. For example, a room that could be a bedroom or a dining room.

Work With a Designer
While you've got an idea of what you want to achieve, an architect can make your dream a reality. It's best to shop around as well; you don't have to commit to someone who doesn't feel right.

Bigger companies will often look good on paper, but they'll probably deal with bigger commercial projects and can often be pricey. Don't rule out freelance architects and smaller companies.

What to Consider Before Planning An Extension
Ceiling price – every area has a maximum price people are willing to pay for a property, whether it's in the Cotswolds or inner-city Manchester. If you're trying to add value with an extension, check the house isn't approaching ceiling price.
Build cost vs value gain – for example, if your house is hitting ceiling price and the cost will outweigh the value gain, there's no point in the extension, unless you're doing it to improve the quality of life.
Build complexity – are you building on a slope? Is there Japanese Knotweed under your lawn? A more complex build will require more investment.
Consider alternatives – if you already have an outbuilding like a conservatory or a garage, you could convert them at a lower cost. You could explore the option of converting your loft into a functional space.
The ROI of an extension is considerably lower than a conservatory, however the profit added is considerably more. Think about why you're building an extension, if you want to enhance the quality of life with potential to sell at a later date.
ROI: 71%
Profit: £14,000
Average cost: £19,750

3. Get a New Bathroom – £2,350 Profit


Coming in at the lowest profit margin and ROI is a new bathroom. Although renovating a bathroom is usually a pricey update, it doesn't have to be. You can add value to your bathroom on a budget, so the cost of your renovations don't outweigh the property's increase in value.

Firstly, consider what you can do on your budget (if you don't have a budget, get your calculator ready). Also, if you're existing layout works, keep it. There's no need to make drastic changes to soil pipes and water inlets if you don't need to.

Here's what you should consider when remodelling a bathroom:

Shower – consider what type of enclosure you want, and the thickness of the glass. Also, think about whether to have an exposed or hidden system, and whether you need an electric shower if there's no water supply.
Bath – think about the frequency of use here, there's no point in getting a top-of-the-range bath if you rarely use it. Consider whether you want a free-standing or fitted bath. If you need to combine the bath and shower and compromise on the item you use the least.
Suites – while wall hung sanitary ware may look appealing, the cost of installation can soon build, so it's better to stick with a suite.
Fittings – don't go cheap on your bathroom fittings as you get what you pay for, get good quality fittings if you want to add value to your home.
Tiles – if you can't afford to tile all of your bathroom, have a signature wall and get some high-quality tiles and pair them with painted walls.
Window Cover – get blinds installed if you like the idea of being able to control the light and privacy of your bathroom, or get window vinyl if you like privacy but still want to let light flood into your bathroom.
Upcycle – you can save money by upcycling furniture that's already in your bathroom, just don't do it for the sake of it, it has to add to the new design.
ROI: 48%
Profit: 2,350
Average cost: £4,900

Other Ways to Add Value to Your Home
If you don't think any of the above options suit you, there are different ways to add value to your home, which include:

Cellar conversion
Split a house into flats (ideal for those who want to let)
Install a new kitchen
Apply for planning permission
Lower the kerb and add a driveway
Make the living area open plan
Get new carpets
Replace a roof
Improve your garden
Now you know what adds more value to a house, you're more likely to make a well-informed decision. However you choose to improve your home, we wish you the best of luck.