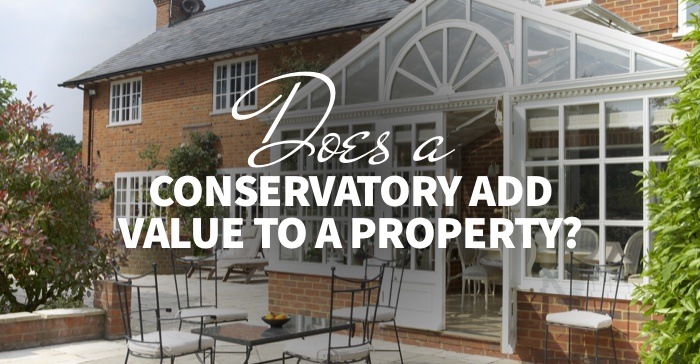 While the banking crisis hit the housing market hard in 2007, it had a positive effect on the home improvements market.

As people were struggling to buy and sell houses, homeowners started to look for ways to improve their dwellings. Improvements could include new or retrograde orangeries, conservatories and extensions.

From 2015 to 2020 the home improvements market grew from £36 million to £42 million, and it continues to grow. Homeowners are now free to build bigger extensions, too.

If you're thinking of getting a conservatory or you're moving into a home that has a conservatory, you might be wondering whether a conservatory adds value to a property.

You may want to create a functional living space, or the house you're looking at could be considerably more than those that don't have conservatories.

We're going to tell you whether a conservatory adds value to a home, so you can decide whether to build one, convert one or buy a house that already has one.

How Much Value Will a Conservatory Add to My Home?

In a previous article, we spoke about what adds the most value to your home, with a conservatory and an extension providing the best ROI at 108% and 71%.

Conservatories offered a £5,750 profit with an average cost of £5,300, which is based on data taken from Zopa. They asked their customers how much value had been added to their property following a home improvement loan.

While we can't take these figures literally, they are a sign of what you can achieve if you do decide to build a conservatory, or if you're buying a house with a conservatory.

Mark Hayward, Managing Director of NAEA Propertymark (National Association of Estate Agents) says:

'Done correctly, a conservatory costing between £4,000 and £10,000 could increase value by five per cent – an average of around £15,000.'


Mark Hayward, NAEA
Determine What Affects Value

If you know what makes a conservatory valuable, you're in a better position to build, convert or buy a house and get the most value possible.

Speak to an estate agent – if you're adding a conservatory you'll want to do it in a way that will increase value. Likewise, if you're buying you'll want to know why the conservatory adds the stated amount onto the original price. An estate agent will be able to give you more information as they'll have valuable inside knowledge and advice.
Style of the home – conservatories that follow the architectural theme are more likely to be worth more money, so consider style when buying, building or renovating.
Size – large conservatories that limit garden space could damage the value of your house, so the size of the conservatory needs to be proportionate to the garden and surroundings.
Roofing – a conservatory with a tiled roof system will add more value than a conservatory with a glass ceiling, and will improve functionality.
Views – if your house has attractive surrounding views, a conservatory can help bring these views into focus, contrastingly, it could also hinder them.
Garden direction – the direction your garden points will determine how much sunlight you get, south-facing gardens get the most sunlight, north-facing gardens get the least and east and west varies at different times of the day.
Temperature – conservatories can be extremely cold in winter and scorching in the summer, the milder seasons of autumn and spring are when the temperature is moderate. You can find ways of altering temperature to make the room functional all year round, such as roofing installations.
Noise pollution – if your conservatory leaks noise from neighbours or any nearby public transport, you could lose some value. It's better to use high-quality glass that can protect you from noise pollution and heat loss.
Your budget – if you have a small budget (£1500-£3000) you won't get the best conservatory and it'll compromise the potential value you add to your house. Consider upping your budget to £4,000-5,000 pounds to see a healthy return on investment. If you already have a conservatory, you could add a roof and improve parts of the structure with a smaller budget.
Value or Quality of Life?
We would always recommend that you approach a conservatory build or conversion as a project to improve the quality of life rather than to add value to a home. The latter is a great bonus, but not a motivating factor.

Adding a Conservatory to a House: How to Begin

If you want to add a conservatory to a house, here are some tips on what steps to take when you begin:

Planning permission – most conservatories don't need planning permission, but it's always worth checking before you go ahead.
Timescale – determine what your deadline is, building work can mean your house can get messy, so you want to make it as quick as possible.
Budget – your budget will determine what type of conservatory you can get or how much you can spend on a renovation.
Get quotes – once you've determined your budget, you can start reaching out to companies for quotes.
Start Adding Value to Your Property
Although you're reading this blog because you want to determine the monetary value of a conservatory, there is value outside of money. If you have a converted conservatory, you can use it as a functional space such as an office or a dining room.