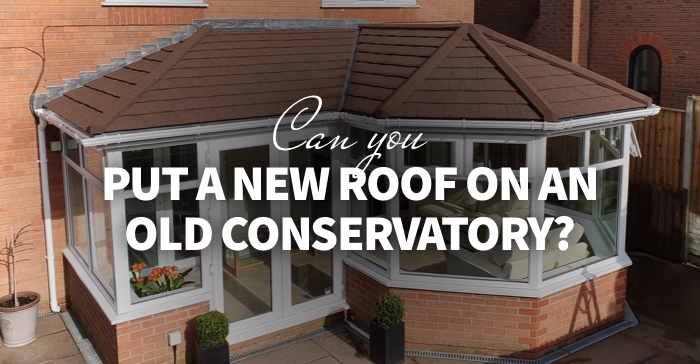 Problems with old conservatory roofs are common. They often have leaks, draughts and are insufferably cold in winter yet swelteringly hot in summer, which ultimately makes the room unusable. If you've decided that it's finally time to take control and make your conservatory enjoyable again, you're probably considering replacing the roof.
So, can you put a new roof on an old conservatory? The answer is yes!​​ It's much more cost-effective to replace the roof on your existing conservatory than it is to rebuild the whole structure. Providing your existing foundations are strong enough, and you're happy with the shape and size, a new tiled roof will solve all of the problems commonly associated with old conservatories.
Before diving in headfirst, it's important to have all the information you'll need for replacing your conservatory roof. Unfortunately, there are cowboy companies out there that will promise to do the job for a bargain but will cut corners that could leave you in a mess later down the line.
Before getting any quotes, make sure you're familiar with what you want from a replacement conservatory roof as well as all the legalities involved. To save you hours of research, we've piled together everything you need to know about putting a new roof on your old conservatory right here.
Why should you replace your conservatory roof?

There are many reasons why you may want to replace your conservatory roof. Perhaps the most obvious is that a traditional one-piece glass or polycarbonate conservatory roof is not thermally efficient, so you can't actually enjoy the space unless it's a mildly warm day. They're also not energy efficient, so you're losing money in heating costs every time it's chilly outside – which in the UK is a lot. Old conservatories often look grubby from the outside in too, which has a big impact on the overall look of your home.
If left unattended, your roof will continue to make your conservatory an inhospitable place. Whereas replacing your roof will save you money in the long run and give you an enjoyable room year-round.
The benefits of replacing your conservatory roof are endless really – providing you choose the right replacement, of course.
What are the different conservatory roof options?
Choosing a new conservatory roof can seem like an overwhelming task. Not only do you need to consider the style and colour of your replacement conservatory roof, but you also have to make sure that it is installed correctly. We've put together a few tips on choosing the best replacement conservatory roof for your property.
1. Solid conservatory roof

A solid roof system uses tiles to turn your conservatory into a structure that resembles an actual building. They look professional, homely, are customisable to suit your taste and have a ton of benefits.
What are the benefits of a tiled conservatory roof?
A new tiled roof will:
Maintain a comfortable temperature year-round – If you're sick of your conservatory being too cold in winter yet too hot in summer, you're not alone. This is one of the most common problems associated with glass or polycarbonate conservatory roofs. A tiled roof has great insulating properties that keep the heat in during winter and block hot sun rays in summer.

Add value to your home – a solid roof could turn your conservatory into an extension that will add value to your property.

Create an extra room for you to enjoy – what's the point of having a space in your house that's unusable? Once your conservatory is properly insulated, you can use the room for whatever you choose. An extra lounge, home office, home gym… the options are endless!

Give your home the wow factor – compared to a polycarbonate or glass roof, a tiled roof really makes your home shine – from the outside and in! Especially if you include a glass feature.
Tiled conservatory roofing comes in a number of variations, each with its own distinct look. These include:
Solid roof – If you're looking to make your conservatory look like a true extension of your home, go for a solid roof. With a SupaLite roof, you can choose between ExtraLight tiles or slate, in a variety of colours to match your home.
Glass features – If you like the look of a traditional glass conservatory, but want the added benefits of a tiled roof, there are glass feature options that allow you to have the best of both worlds! At SupaLite, these include window vents, SkyVista glass panels and pitched orangeries featuring a glass lantern. Each with a distinct style, they bring a ton of natural light into your new room, while adding a flair of elegance that looks spectacular. While this is generally the most expensive option when upgrading your conservatory roof, it's the cremè de la cremè.
2. Polycarbonate roof

Polycarbonate roofs are the most affordable option and were once the most common. However, as people realise the problems that come along with polycarbonate roofs, they aren't as popular as they used to be.
What's wrong with a polycarbonate roof?
While they are cheap and flexible, a polycarbonate roof has a lot of disadvantages. The biggest is heat regulation. Not only can they not keep heat in during winter, but they can't keep it out in summer either. That makes your conservatory unusable for 2 whole seasons of the year. They're also noisy when it's raining, are more susceptible to leaks and draughts and pretty unattractive to look at too. Many are opaque, so you don't get those beautiful clear sky views and they're hard to clean so will gather muck over time.
3. Glass roof

Glass roofs are better insulators than polycarbonate roofing and are generally more pleasant to look at, but they are more expensive.
Should I get a new glass roof?
If you're looking for that traditional conservatory roof that's light and airy, a glass roof is a good choice. If you choose a roof with energy-efficient glass, this style of roof will be much better at controlling the temperature of your conservatory than a polycarbonate roof will be. However, while conservatory glass is better than what it once was, you'll still have the furnace in summer and ice cube in winter feel to it. That's why, in our opinion, a glass roof sits in the middle of a polycarbonate and solid roof option.
Do you need planning permission?

Replacing a conservatory roof doesn't usually need planning permission, but you may still need building regulation approval. What's the difference? Well, if your conservatory already exists, you don't need planning permission because you aren't building anything. However, you do need to ensure your roof complies with building regulations. So yes, you need to consider building regulations on a conservatory, as well as any other adaptation to your home. We have a blog that explains all about planning permission and building regulations in detail, check it out here.
How can I make sure my new roof is efficient and safe?
The best way to ensure your replacement conservatory roof is both safe and efficient is to choose a reputable company. It might be tempting to go for the cheapest price, but when it comes to structural work on your home, it's important to have the proper regulations in place. It's always better to buy right than buy twice.
If you're considering replacing your conservatory roof yourself, we strongly recommend against doing so. Unless you're a trained expert, you're likely to face some issues with such a big job.
Locate a reputable conservatory roof installer
If you're on the hunt for an installer, all of the installers registered with SupaLite can provide you with information that proves you can trust them to handle your conservatory roof replacement.
Insurance Approved
All installers and products have full building regulation approval
We supply direct to all our tradespeople
All our installers are polite and professional, we refuse to work with cowboy builders