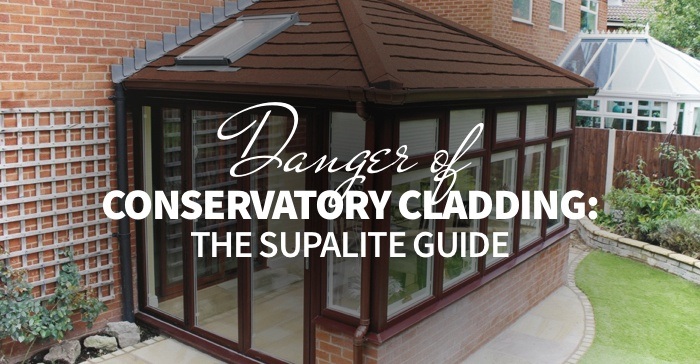 The popularity of conservatories is well and truly on the rise, thanks in no small part to new, lightweight tiled conservatory roofs. However, because a tiled roof looks professional, it doesn't mean it is.
The most common reason homeowners want to upgrade their worn-out glass or plastic conservatory roof for a high-quality tiled replacement is because of extreme temperature changes during summer and winter.
New, sophisticated designs and better materials mean conservatories can retain warmth in the winter months and keep your conservatory cool on sunny days. It's now possible to have a space that is usable all year-round.
One such revolutionary design is our lightweight tiled roof system. We've seen an increased demand in the past 12 months. Homeowners seek quality retro-fit products to replace tired conservatory roofs or high-performance solutions for exciting new-build projects.
But this new-found popularity has come at a cost. The number of cladovers is on the rise and is proving a problem for both the industry and homeowners.
At SupaLite, we find it distressing when we hear of installers installing conservatory roof cladding due to the problems it creates. Homeowners must be aware of the dangers so they end up with a poor imitation instead of the genuine article.
What is a Cladover?

A cladover is when an installer tries to pass off basic timber installation material, low-grade tiles and plasterboard for a real tiled roof to the detriment of the conservatory and the homeowner.
Rather than replacing the whole conservatory roof, the installer will take out the old polycarbonate sheets, directly fix timber battens to the pre-existing roof and plaster over to mask any potential issues.
Why Are Cladovers a Problem?
SupaLite Managing Director Dave Watters knows how these botch jobs are affecting the industry, he comments:
"Conservatory cladding creates problems. Firstly, the new roof will add too much weight to the original PVCu or aluminium structure that carried the polycarbonate or glass roof.
It'll offer no measurable insulation or structural calculations. And it will be susceptible to cracking plaster and leaking at the first sign of rain."
Considering that it's now a reliable tiled roof, the conservatory will now fall under Building Regulations, potentially causing the homeowner issues later down the line when they try to sell their property.
Here's Dave explaining the problems of installing conservatory cladovers:
Why Do Homeowners Install Cladovers?
The only benefit to the consumer for a cladover is the cost but, while it might feel like the bargain of the century, when you consider the inevitable problems, it will cost you a lot more over time.
While homeowners have become the direct victims of conservatory roof cladding, installers are at risk of feeling the impact too.
But there are ways approved installers can combat unaffiliated installers that fit dodgy cladovers, so consumers can be confident the work carried out is of the highest standard.
Installers should produce and share valuable online content to build more trust with their audience. And position themselves ahead of those installers that try to pass off shoddy work as a leading solid tiled roof brand.
Homeowners and installers are advised to read the marketing material provided by SupaLite. The content highlights the fact that Building Regulations apply to tiled conservatory roofs, ensuring that the homeowners and installers are aware and can challenge salespeople who are offering conservatory cladding.
The Route to a Bodged Conservatory Roof: A SupaLite Analysis

If you're looking to replace the existing roof on your conservatory, your first port of call is probably Google, with a search term such as 'Solid Roofs for Conservatories'.
We did this afternoon and found, on the first page, references to Supalite, Ultraframe, Equinox, Guardian and Celsius (other systems are also available, just not on that first page).
Also on that first page was a Technical Guide from the LABC on 'Solid Roofs on Conservatories and Porches and one from the Cambridge Network saying 'Replacing a conservatory roof with a tiled one can damage your wealth'.
A brief look through these two pages should tell every prospective buyer of a solid roof about the regulations and pitfalls.
If the evidence is there, why are cladovers apparently outselling the genuine article?
The answer has to be clever selling and attractive prices, also, homeowners may not be aware of the detriments of conservatory roof cladding and may miss the evidence.
How Are Homeowners Duped Into Buying Cladovers?

Let's take a simple scenario. We have an ageing conservatory with a polycarbonate roof and we'd like it replaced and a solid roof will make it more habitable, year-round.
Look Out for Suspiciously Cheap Quotes & Cheap Materials
A quotation from any of the recognised roof manufacturers through one of their approved installers will be more expensive than a quote from an unaffiliated installer. Why? Because they may well be offering a cladover.
The problem comes when you think you're being offered a named brand of roof. The installer is merely picking up timber, insulation material, tiles and plasterboard from their local trade counter and assembling a roof on the conservatory.
Sometimes this may be done without even removing the polycarbonate roof but rather sandwiching this between the batons, felt and tiles and plasterboard and some insulation that is fixed underneath.
Initially, You Won't Be Able to Tell


From all appearances, it would look pretty good. The snag is that the original PVCu structure that carried the polycarbonate roof, or even a glass roof, is probably not structurally robust enough to take the solid roof.
You have a roof for half the price of the branded product, and it looks OK. However, what happens when something goes wrong? A heavy fall of snow or even the PVCu structure simply bending under the load. No problem, there's the ten-year warranty and Building Control Certificate…ah! They haven't got either of those.
Testing the Authorities
A quick 'phone call to Building Control at Leeds Council and we were told that replacing a conservatory roof with a solid roof was subject to Building Regulations.
When we told the gentleman we were from Glass News and why we were asking, he knew all the branded solid roof products and the need for corner post supports to ensure that the roof was self-supported rather than relying on the PVCu window structure.
We asked if they had any issues with solid roofs not having Building Regs and his reply was a no. And what about cladovers, we asked? "We usually pick those up when they try and sell the house."
Now Leeds seem to be on the ball, but I also understand that some large authorities are unclear as to whether Building Regs are required.
There is also the issue of 'passing off' whereby the installer purports to be offering branded solid roofs and even display company logos on their website but are selling cladovers.
Some of the roof system companies have challenged these people and got them to remove claims to be offering their roofs, usually with an apologetic: "Sorry guv, it's a fair cop, we'll take the logo down."
The Scale of Deception

Is this cladover issue a big problem? We're led to believe that the market for solid roofs, through the branded systems, is around 700 roofs per week. However, it is also estimated that approximately 1,000 cladovers are sold every week, so it would help if homeowners and tradespeople were vigilant.
We've heard of companies being 'phoned by a homeowner, saying: "I'm having one of your roofs fitted at the moment, but there seems to be a lot more timber involved in the construction than I saw on your website."
The request for some photographs to be sent through from their mobile phone soon establishes that it isn't the roof they thought it was. The "leave it with me" comment from the householder probably indicates a major row with the installer or a call to Trading Standards. And it appears Trading Standards in some areas know of the problem.
Why Are Cladovers So Difficult to Spot?
You may ask why homeowners can't see that the new roof is a cladover? It's not unusual for a working couple to leave the installer to do the job while they are both out at work and, without cutting a hole in the plasterboard ceiling, who's to know what's hidden inside?
Our concern is a collapsed cladover on top of little Jimmy, who is playing with his bricks in the conservatory. The finger will be pointed at that 'double glazing' lot and their dodgy dealings, all over again. I don't think any of us need that.
Always Go for the Real Deal

SupaLite is the trusted manufacturer behind the revolutionary SupaLite tiled roof system for conservatories and orangeries. Our systems are in high demand thanks to their lightweight design, exceptional thermal performance and ease of installation.
Conservatories are not renowned for being robust, but we've resolved this problem with the help of aluminium. With this material, the main structure of the system strikes a balance between sturdiness and lightness.
Our roofs are not much heavier than a standard glass roof. Still, aluminium's inherent strength also means that they are perfectly suited to coping with the UK's unpredictable weather.
The SupaLite Extralight tiles are also tested by the British Research Establishment to ensure that they are secure and weatherproof.
If you're going to get a new conservatory roof, don't accept any imitations. The SupaLite tiled roof is the real deal, and we'll be happy to point you in the direction of one of our approved installers.
Here's our National Sales Manager James Casby explaining the structure of a SupaLite Roof:
Find An Approved Installer
Do your research. Some companies claim to sell branded roofs, when actually they're selling cheap and nasty clad-over roofs. Avoid unaffiliated installers and think about the money you'll save in the long run by getting a quality replacement conservatory roof.
A clad-over roof might seem like the bargain of the century at first, but it will cost a lot more over time. Remember – you buy cheap, you buy twice!