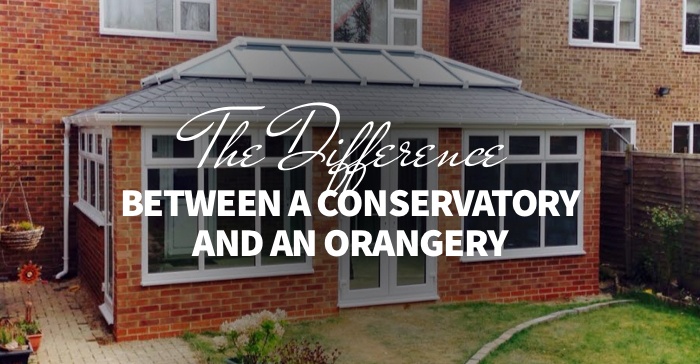 A question we hear a lot is, "What is the difference between an orangery and a conservatory?".
At a glance, modern orangeries and conservatories don't seem that different. Their visual similarities can make the task of identifying what roof conversion or extension style you want confusing.
We're going to make things more straightforward. Here is a concise history and description of orangeries and conservatories and what makes them different.
What is an Orangery?

Classic Orangeries
Both orangeries and conservatories date from around the 17th to the 19th century. Orangeries got their name from their original purpose – to provide shelter for citrus trees during the harsh winter months.
A typical staple of homes on affluent estates, orangeries were a sign of wealth and were often stand-alone structures made from both solid materials such as brick and glass.
Notable examples include the large orangeries at Kensington Palace and Kew Royal Botanical Gardens.
Both of these orangeries were intended to house exotic fruit but were also entertaining spaces – a function they serve to this day.
Modern Orangeries
Most domestic orangeries don't mimic the grandiosity of Kensington Palace, but the mixture of brick and glass make them attractive pieces of architecture.
While modern orangeries will retain most of the original features of a classic orangery, they're likely to be smaller in size and used as a room or home extension instead of a tree shelter zone.
They blend into contemporary and classic styles, and with the correct roof choice, they'll look more like an extension than a conservatory because of their brick structure.
What is a Conservatory?

Classic Conservatories
Conservatories were first built to protect plants and shrubs, and similar to orangeries also became to be associated with the wealthy.
The Palm House at Kew Gardens and the iconic Crystal Palace are Georgian and Victorian examples of conservatory-style structures.
Constructed from glass and iron, old-style conservatories were susceptible to rust and fluctuating temperatures, and they fell out of fashion by World War II.
Modern Conservatories
With advancements in building materials, conservatories became popular for homeowners as extension-style rooms around forty years ago.
Companies offered full design, installation and warranties. The materials were cheap too (polycarbonate and glass or plastic), which made them appealing for homeowners that wanted to add an extension to their home or garden.
Technological advances in flooring, blinds and roofing mean that homeowners have more options available when trying to regulate the temperature in the room, making the rooms accessible at all times of the year.
What is the Technical Difference Between a Conservatory and an Orangery?

The main difference in conservatories and orangeries comes in the glass-to-other-materials ratio in the structure.
For example, if your structure contains less than 75% glass in the roof structure and less than 50% glass in the wall structure, you have an orangery.
If your structure contains more than 75% glass in the roof structure and less than 50% glass in the wall structure, you have a conservatory.
What Are the Other Differences Between a Conservatory and an Orangery?

You can use percentages as a guideline, but they're difficult to quantify. And when it comes to the details behind what defines a building as a conservatory or as an orangery, there aren't any specific rules.
You could use the shape as an indicator; orangeries are more likely to be rectangular or square. Conservatories can be rectangular or square, but there are other shapes such as P, L and T-Shaped conservatories.
The bottom line is that they're very similar, and with the various styles and home improvement options available today, the names are becoming more interchangeable.
An orangery has more brickwork than a conservatory and is a hybrid between a traditional conservatory and a reliable extension.
Orangeries often have flat roofs with a raised roof lantern. However, there are other options on the market, such as a pitched tiled orangery roof.
Conservatories are mainly made from glass or polycarbonate, are attached to the main house, and usually have a pitched roof.
Are Orangeries Warmer Than Conservatories?

While orangeries contain more brick than conservatories, it's often a marginal amount. Both structures will suffer from the poor insulation qualities of glass, so they'll usually be hot in the summer and cold in the winter.
Orangeries may be slightly warmer than conservatories, but it won't make it inhabitable in the winter months unless you'll need another heat circulating method.
Can You Turn a Conservatory into An Orangery?

While it is possible to convert a conservatory into an orangery, it isn't an easy job and may require building regulations and planning permission.
You would probably have to rebuild the structure anyway, so you'd be starting from scratch after dismantling your conservatory.
A cheaper, quicker and more straightforward option would be to install a roof on your conservatory.
A roof will give the impression of an extension and will help to regulate the temperature in the room. You'll also be able to use the room all year round.
You need to ask yourself where you think you should invest your money and what you want the room to do.
SupaLite Conservatory & Orangery Roofs
If you make the smart choice to replace your original glass or polycarbonate conservatory roof with a tiled replacement roof from SupaLite, you no longer have a conservatory, but an extension.
You also have the option to add roof lanterns (traditionally seen on orangeries) or vents to your replacement tiled roof.
You can see how our various options allow you to create your own ideal conservatory/orangery/extension hybrid and make the names more interchangeable.
Whatever style you currently have or want to build, choosing a SupaLite Roof will ensure you have a comfortable, energy-efficient and robust living space, suitable for enjoying all year round.
If you are unsure of which SupaLite roof you should choose, don't hesitate to get in touch with our friendly team on 01772828060.