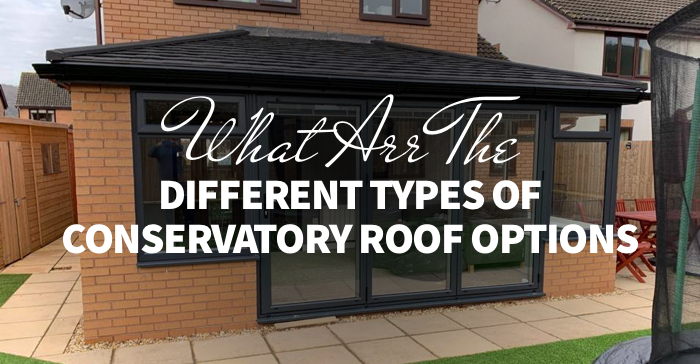 Conservatories come in handy in the summer months, they provide you with a little shelter while still being able to enjoy your garden. However, this traditional use is becoming less common as more functional spaces are available. But it wasn't always like this…
If you bought a conservatory before 2010, you would have received a glass roof or a classic polycarbonate roof which was made mainly from plastic – white supporting beams with clear plastic slotted in-between them.
Advancing Technology
Over time, the durability of these systems was put to the test, and many experienced problems such as leaking roofs, overheating, cold spots and poor sound insulation. Fast forward 20 years and technology has advanced – polycarbonate roofs and glass roofs have been improved and there is also the option to add a tiled roof.
Changing Legislation
before 2010 conservatories had to be at least 75% translucent to meet building regulations. This legislation has changed and there are now more options available than ever before, and people are exercising those options so they can create extra space in their homes.
How Will I Know Which Roof is Right for Me?

Getting the right roof depends on various factors. Firstly, you need to decide what you want to do with the room. For example, a dining room would perform a different function to a guest bedroom or playroom. You'll also have to consider your budget, roof maintenance, roof lifespan and the amount of light you want in your room.
In this guide, we're going to help you explore your conservatory roof options by discussing different conservatory roof styles and conservatory roof types, so you can make an informed decision.
Conservatory Roof Styles
There are specific roof styles, and whether you're aware of them or not your conservatory will go under one of them. Once you know the style of your roof, it'll be easier to pick the type of structure you want. We would advise you to stick with the original layout if you can, as changing it would be an expensive job.
Most conservatories are either square or rectangular, as this makes for better furniture arrangement and doesn't infringe on the outside as much.
The main styles are Victorian, Double-Hip, Gable and Lean-To. There are variations of these which are Edwardian, L-Shaped, P-Shaped and T-Shaped. Let's explore those styles and see what they look like.
Victorian Style

The Victorian is perhaps the most distinctive style – coming in semi hexagonal or pentagonal bay window shapes with window facets on each section until it connects to your house. This creates a curved shape – the roof follows a similar pattern with triangular panels that reach up to the apex where the conservatory roof forms a point. The bay window creates an effect of moving out into the garden and forms a quaint corner in the room. This conservatory style suits both heritage and modern properties, and suits all roof types.
Lean-To

The Lean-To conservatory is simple yet effective. Its name comes from the fact that the roof is slanted, meaning the conservatory roof looks like it leans into the house. Due to its simple structure – which is usually a square or rectangle with a flat roof – this is the cheapest and easiest roof to install and modify.
Double-Hip

The Double-Hip roof is more likely to make your conservatory look like a separate structure as the roof doesn't blend into the house. For example, the Victorian roof contains five sloped facets, the Lean-To contains one sloped facet and the Double-Hip contains four sloped facets which meet each other in the middle. The conservatory in the picture also contains a combination of tile and glass, which insulates the building and provides ample light.
Edwardian

The Edwardian style roof is similar to the Double-Hip style roof, but it only contains three facets. The facet that usually moves away from the house is no longer there, which gives the impression the conservatory is part of the house. The height of the roof can be extended by altering the angle of the facets, which makes it an appealing option.
Gable

The gable roof is a dramatic design that creates an exaggerated impression of height. The two sloped panels at the sides fade into the background and the triangle facet at the front of the conservatory creates a centrepiece, which is often decorated. It also has the effect of drawing the eye upwards.
'Lettered' Conservatories


A 'Lettered' conservatory can fall into one of three categories: P-Shaped, L-Shaped and T-Shaped.
The explanation is fairly simple a P-Shaped conservatory is a combination of a square conservatory and a Victorian conservatory, and L-Shaped conservatory is two rectangle conservatories stuck together at either end and a T-Shaped conservatory rectangle conservatory with another rectangle conservatory coming out of its centre.
You'll want to consider the dimensions of these types of conservatory when picking a roof because they often cover a large area.
Conservatory Roof Types
As we mentioned, polycarbonate roofs aren't your only option when picking a replacement conservatory roof. There are four options:
Polycarbonate roofs
Glass roofs
Tiled roofs
Hybrid roofs
Polycarbonate Roofs

Polycarbonate roofs are the most common and affordable option, although the rise in popularity of other options and changing legislation mean polycarbonate roofs aren't as popular as they used to be.
If you don't intend to use your conservatory or you're renovating a property to sell, a polycarbonate roof is a good option.
Advantages of Polycarbonate Roofs
Cheap – the cheapest option on the market, what you gain in the price you lose in durability and overall quality.
Easy to shape – it doesn't matter what shape the conservatory is, the material can mould to fit it.
Transparency options – you can opt for a more transparent or opaque roof depending on how you want to regulate light and temperature.
Disadvantages of Polycarbonate Roofs
Heat regulation – if you have a polycarbonate roof you'll be aware that heat outside means sauna-like conditions inside, making your conservatory difficult to use.
Unattractive – while clear plastic has a more glass-like feel, plastic still has the tendency to look cheap and tacky. Opaque versions can look murky, too.
Noisy – rain can reverberate off the plastic which can create a lot of noise, depending on the harshness of the rain.
Ask yourself the following questions when thinking about a polycarbonate roof:
How long did your last polycarbonate roof last? And how long do you want the next one to last?
Did you or do you use your conservatory? Would you use it more with a better solution?
What's your budget and could you increase it for a better option?
Glass Roofs

Glass roofs are better insulators than polycarbonate roofing and are generally more pleasant to look at. While glass roofs weren't as popular as polycarbonate roofs, they're better insulators and stay warmer during the winter months. Glass also lets in a lot of light, so the room will be bright and airy with a glass roof. If you want to keep the conservatory feel but want a classier more durable roof, glass could be the option for you.
Advantages of Glass Roofs
Let there be light – glass roofs allow light to flood into the room, meaning you can keep the sunroom, outdoorsy feel.
Durable – quality glass is durable, so it can last 20-30 years without needing any replacement.
Easy to install – you won't find it difficult to get a glass conservatory roof installation as there are plenty out there.
Disadvantages of Glass Roofs
Expensive – glass can be expensive, especially with the cost of insulation. It is marginally better than a polycarbonate roof, lasts longer and looks better. But there are more practical options out there.
Temperature regulation – conservatory glass is better than what it once was, but you'll still have the furnace in summer and ice cube in winter feel to it. Style over substance comes to mind.
Doesn't 'woo' buyers – most people are aware that conservatories with glass roofs are useless unless the temperature is mild, so you would be unlikely to add any value to the house by building one.
Ask yourself the following questions when thinking about installing a glass conservatory roof:
How important is natural light in your conservatory room?
Do you want your conservatory to feel like an extension of your home or your garden?
Do you want to sell your house in the next 5-10 years?
Realistically, will you be able to use the room for its intended function?
Solid Tiled Roofs

Solid tiled roofs transform polycarbonate or glass roofs into a structure that resembles an actual building and throws the conservatory look out of the window (no pun intended). They're pretty convincing, although some buildings still maintain a large amount of glass on the walls of the building. Tiled roofs look professional and homely, and if you aren't set on the traditional conservatory look, it's a wise investment.
Advantages of Solid Tiled Roofs
You can use it! – USP, key-selling point, stand-out feature; whatever you want to call it, the fact that a roof regulates the temperature much better than a glass or polycarbonate roof means you can use it all year round.
Part of the house – tiles come in various colours, so you can choose the style that suits your house. This means the conservatory is more likely to resemble an extension.
Add value to your home – adding a functional room to your house is more likely to increase its value, especially if you're using it and potential buyers can see that.
View SupaLite's full list of benefits.
Disadvantages of Solid Tiled Roofs
Lack of light – temperature regulation does come with a price, solid roofs won't let in as much light. However, if you have large side windows you should still get enough.
Losing more money – if you've already paid for a glass or polycarbonate roof, you'll be spending more money on a roof that you wanted to be right in the first instance.
Getting the right supplier and installer – the relaxation of guidelines meant that plenty of companies started appearing with new tiled roof solutions, so you should ensure they have the correct approvals and certifications, work with qualified installers and have plenty of work they're proud of.
Ask yourself the following questions when thinking about installing a glass conservatory roof:
Could you do with an extra room in your house?
Would it be beneficial for you to use the room all year round?
Are you considering selling your house at any point?
Hybrid Conservatory Roofs

Hybrid conservatory roofs meet somewhere in the middle of a glass roof and a solid tiled roof, and are often bespoke projects or companies will offer specific products. If you want the room to keep some of the original outdoor character while still being functional and temperate, a hybrid roof is a solution for you.
Advantages of a Hybrid Conservatory Roof
Look spectacular – hybrid conservatory roofs are splendid pieces of architecture that make a home look contemporary and classy. They'll wow anyone that walks into your property.
Blend without compromise – some homeowners may be reluctant to go for a solid tiled roof because they don't want to lose the outdoor feel of their conservatory, keeping some glass allows you to do that.
Customisable – once you go for a bespoke solution the tendency is to go full-on, add spotlights and custom tiles.
Disadvantages of a Hybrid Conservatory Roof
Most expensive option – as you'd probably guess, adding ceiling lights and a tiled roof is going to be more expensive than adding glass or polycarbonate roofs.
View the SupaLite SkyElevate glass system and SkyVista lantern.
What Conservatory Roof Type Will You Go For?
There's plenty of food for thought there, but why not be a little greedy and take a bit more? SupaLite provides tiled roof systems for all types of conservatory styles and can convert your polycarbonate or glass conservatory into a proper, functional space. Here are some examples of the best work we've done so far.