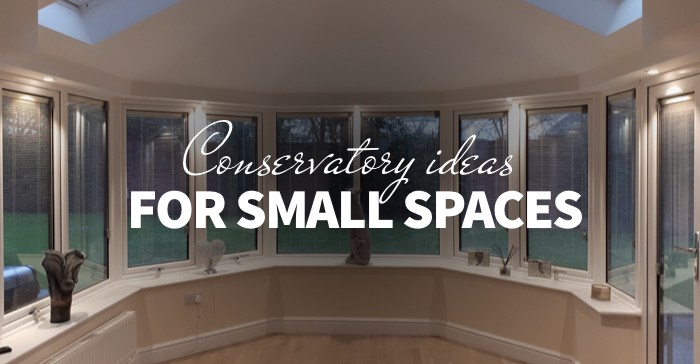 You don't always need a big space to create a practical conservatory, even the smallest of conservatories can make a great addition to your home when you know how best to utilise that space. 
Easier said than done right? Well, we've put our expert heads together and come up with some great ideas to help you make the most of your small conservatory!
How to use a small conservatory
Extending your kitchen

Extending a kitchen even just a few metres can create so much more space!
The glass walls and ceilings in a conservatory bring lots of natural light into the room, making your kitchen feel more airy and open.
Even if it's not quite big enough for a dining room, a kitchen extension can give you an open plan dining area. Installing a tiled roof will make the transition from the kitchen to conservatory feel more seamless, as though they've always been one large room. It will also make the space more usable, as it keeps your conservatory warm in winter and cool in summer.
Second living room
If you have a large family, you'll understand the pain of sharing a living room. Having a second chill space will give you a chance to escape the remote stealing kids and watch what YOU want on the TV for once. Small conservatories make the perfect cosy nook to set up this 'grown-up's only' second living room.
Creating an office

Where better to spend your working day than basking in the views of your lovely garden? A conservatory is the perfect space, away from the noise of the rest of the house, for you to work and it doesn't require a lot of space. 

Check out one of our recent blog posts for conservatory office ideas.
Library and reading room
The bright nature of a conservatory creates a lovely, calming space that's perfect for relaxing with a good book. Using a tall and narrow bookcase will save space and stop your books from becoming scattered all over the house. Then all you need is a plush, soft armchair to curl up in and enjoy hours of peaceful reading time.
Ideas to maximise space in a small conservatory
Interior design can determine whether your conservatory becomes a welcoming, favourite room in your home, or an unused and unloved space. Putting a little thought into your decor can use the space you have to maximum effect. We have some small conservatory interior design ideas to inspire you:
Add window seats

Space saving window seats are a great way to utilise every inch of space you have. They prevent floor space from being taken up by chairs or sofas, whilst still providing a comfy and quirky spot to sit and chat over a brew.
Elevate storage
The best storage solution for any small space is an elevated one! Think tall stacked shelving units and floating shelves. This means that valuable floor space is not taken over by storage boxes and units, creating a more open feel to the conservatory.
Avoid a dark colour scheme

Dark colour schemes can often make a space feel smaller. Keeping things light and bright will help make your conservatory feel larger. Choose light colours for the walls and furnishings, like cream, beige, or other soft, warm colours.
Light it just right
One of the main draws to a conservatory is flooding your home with natural light, but glass windows and roofing can render conservatories unusable during winter and summer.

Tiled roofing is a great solution to keep your conservatory at a nice, even temperature year-round, but homeowners often worry it will make their conservatory dark and gloomy, especially small conservatories. Roof lanterns are an excellent way to ensure that your conservatory is still flooded with light, making it seem bright and airy, whilst still providing temperature control.
Can you have a conservatory in a small garden?
When you only have a small garden, you may be hesitant to add a conservatory to your home for fear of leaving you with no outdoor space. A small conservatory is the perfect solution, creating a connection between your home and the outdoors.
A lean-to style conservatory is often the go-to choice for small conservatories. This is a simple design, with clean lines and a slanted roof. However, most conservatory styles can work for a smaller design and some people opt for gable conservatories as the height gives an illusion of larger space.
Whatever style you choose for your small conservatory, our tiled roofing solution can be designed to fit perfectly and transform it into a comfortable, usable space year-round.
Find out how Supalite can help you achieve your conservatory dreams by clicking the button below.