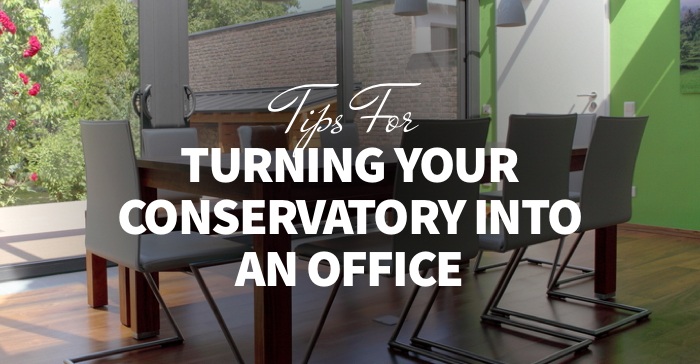 If you're one of the many people that found themselves working from home during the pandemic, you might be considering making the change more permanent – and who can blame you?
Monday morning lie-ins, working in your pjs, zero commute time and endless pet cuddles have over half the workforce in the UK ditching the office and enjoying the benefits of working from home more often.
If you find yourself working remotely most of the time, it's likely you've been searching for the perfect home office space. A home office needs to be both comfortable and efficient, peaceful yet practical – and what room fits the bill better than your conservatory?
Whilst working from home has a ton of benefits, it also has some downfalls. For people without a dedicated work space, these include hunching over the kitchen table, family members walking in on Zoom calls, internet issues and difficulty switching off at the end of the day – just to name a few. That's why it's super important to set up a home office space that allows you to enjoy the positives of working from home.

Why does a conservatory make a great office?
Conservatories make fantastic home offices for many reasons! Here are some great advantages of using your conservatory as a working space:
Conservatories provide privacy, peace and quiet away from the other members of your household, meaning you'll have no one else working in your space to distract you.
It gives you a dedicated work-space away from your chill zones, to stop you from procrastinating or over working.
Creating a multi-purpose extra room can increase the value of your home.
Serene outdoor views and natural light are a great mood booster – what better way to spend your working day than looking out the window at your garden and all the wildlife.
Conservatories tend to be pretty open plan, so you can create an office space without many structural changes. This allows your room to be multi-functional, so you're not using up a spare bedroom.
Tips for creating the perfect conservatory office space
So how do you go about transforming your conservatory into a home office? With these tips, you'll be able to create a work space that has everything you need – and looks great too!

Make sure the temperature is perfect for work
Conservatories can be temperamental in terms of temperature, which doesn't provide an ideal work space. However, it's 2021, meaning gone are the days of your conservatory being freezing cold during winter and swelteringly hot during summer. There are so many solutions that will provide you with a comfortable room year-round!
The best way to create a temperature controlled space is to install a tiled roof. With outstanding thermal efficiency and a hard wearing design, a Supalite tiled roof will protect you from the harshest of weather conditions, making your conservatory a true extension of your home. We also recommend installing double glazed windows to balance the temperature of the room.
With a tiled roof and double glazed windows, heating and cooling solutions are the same as any other room in your home. Consider installing a stove or radiators to keep you warm in winter, or buy an electric fan and open up the windows during summer.
Work with natural lighting
A conservatory is the perfect place to give you a much-needed change from working under artificial lights all day. Lots of windows = lots of natural light, which is great for reading and acts as a natural mood booster. In fact, research shows that natural light helps us to focus, enables us to get more done, and even makes us happier, making your working day much more productive and enjoyable. Position your desk next to the window to get great views and lots of light.
A great way to add more natural lighting is to install a roof lantern! Browse our range of stylish roof lanterns here.
Just make sure to fit your windows with blinds to prevent screen glare on extra sunny days and sun damage to your furniture.

Think about Wi-Fi connection & electrical sockets
If you're working at a computer, then internet and electricity are two of the most important aspects to your home office.
Before you begin working, you need to make sure your wifi reaches your conservatory and that your connection is strong. The last thing you want is for poor internet to disrupt your working day. If you're concerned about this, you can always invest in a connection booster or consider moving your wifi box.
It's also vital to check where in the room your electrical sockets are – this will determine where your desk is placed. You'll need to be able to plug in your laptop charger or computer wire when working from home. Think about where your sockets are and how many you need before planning the layout of your new home office. If you don't have plug sockets in your conservatory, you'll have to purchase an extension lead.
Make sure your conservatory is secure
If you're planning on keeping expensive equipment such as laptops, computers, printers and other gadgets, you need to make sure your conservatory is secure. Keeping these items in a conservatory that's old, flimsy and structurally weak is a recipe for disaster.
Newer conservatories tend to be a lot sturdier, but it's still important to protect your equipment. A Supalite tiles roof system, double glazed windows, installing new locks, cctv and hiding your things from plain view with blinds are all great ways to improve your security.
Find out more about how a tiled roof can improve your security here.

Create a multi-purpose room
If you already use your conservatory and are worried about losing the room to your work space, why not create a room with multiple purposes?
You might want to curl up on the sofa in your conservatory with a good book in an evening, or host a dinner party with friends on the weekend – and you don't want to feel like you're in the office whilst doing so.
An office space doesn't have to take up the whole conservatory, you can create clever zones to get the post out of your room. Using compact furniture and a small desk, you might be surprised at how much space you have for a comfy chair or dining area.
You can also think about installing some storage solutions so you can pack away your work things at the end of the day.
Start planning your transformation today
If you're ready to convert your conservatory into a home office, and want to include a new tiled roof, get in touch with one of our specialists, who'll help you get started. You can view our brochure here.
We hope these conservatory office ideas help you think about how to create a beautiful space to work from home without too many distractions. With the right location and a little thought, your new conservatory home office could be a room the entire family can enjoy.