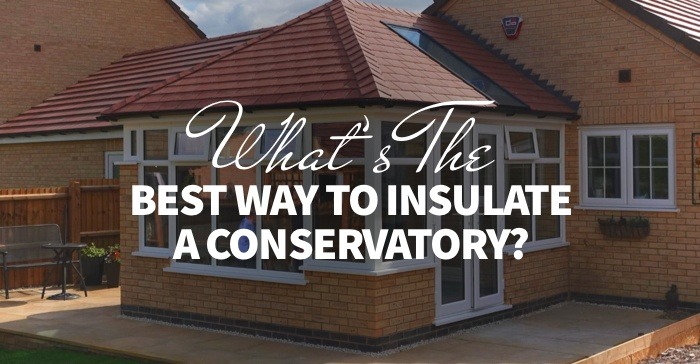 Conservatories have become a classic British home addition; they create extra space and are available in a range of designs.

While they may look spectacular, there are often issues with heat retention. This can leave people confused about how to heat the room and can cause problems with heating bills, room usage and destructive issues like dampness.

Why Do Conservatories Get Cold?
You've probably experienced cold temperatures in your conservatory. This is due to the glass being a poor insulator, so the conservatory struggles to retain any of the heat projected into the building, and cold air enters the room with ease. Also, heat rises, so you lose most of the heat in your conservatory through the roof.

For example, let's compare the structure and materials of your home to a conservatory.

The majority of a conservatory is glass – whereas a house is mainly made up of bricks and mortar, with a small percentage of the room being glass (your window).

Walls (which may also have insulation, as well as plasterboard) act as a barrier to the cold air. Whereas a single pane of glass or even a double-pane doesn't insulate as well, so you'll always experience some heat loss.

Best Way to Insulate a Conservatory Roof
If you've invested in a conservatory and you're only getting use out of it for 2-3 months a year, you'll want to think about insulating the roof so you can create a functional space, here are the best ways to insulate your conservatory roof:

1. Install a New Conservatory Roof

Replacement conservatory roofs are a popular and efficient way of insulating conservatories and for a good reason!

Most of the heat escapes through the roof of a conservatory, so putting a barrier in place helps to prevent heat loss. A SupaLite Conservatory Roof provides a PIR insulated board, insulated plasterboard, a breathable membrane, guttering and lightweight tiles.

If you're worried about losing light from a roofing system, you can choose to add spotlights, glass panels or a roof lantern.

If you want your conservatory to look like another room, this is the best option for you. Conservatory roofs also regulate the temperature, whether it's warm or cold, so your conservatory won't feel like a greenhouse.

2. Install Blinds or Roof Drapings

If your budget is tight, you could install blinds and roof drapings. While the blinds will work to keep the room cooler in the summer, they have limited effect in the winter months.

You could look for some thermal blinds, but consider how much glass covers the building. You'll also want to consider the aesthetics of having blinds and drapings all over your conservatory; it could get a bit claustrophobic in there!

While this is the cheapest option, it could end up being expensive if the draping and blinds pick up any mould from dampness and condensation.

3. Upgrade Your Polycarbonate Roof

Sometimes it's possible to expand the glazing bars in your conservatory so you can install a thicker layer of polycarbonate, which will offer better insulation to the cold weather.

You can also add a thin layer of polycarbonate under the existing structure. However, most polycarbonate roofs have a lifespan of around ten years, so you need to weigh up whether it's a feasible long-term solution. Besides, you may not solve the issues of condensation in the building with a polycarbonate roof.

4. Solar Control Film

If you want to keep the garden feel of your conservatory, you could try a solar control film, which is a thin sheet of material you apply to the windows of your conservatory.

The film reradiates and absorbs heat, meaning you retain the heat from the conservatory. The films can also reduce glare and UV rays.

However, if you don't get high-quality films for your windows, you risk them peeling within a few years. Also, some manufacturers will void your warranty if you apply the film. They're a useful addition to a new conservatory roof, adding extra insulation. Check your manufacturer's warranty first!

5. Aluminium Foil & Thermal Wadding

Similar to a tiled roof system, adding foil and wadding will improve the insulating properties of your conservatory.

However, rather than replacing the roof, you build around it and layer the insulation under the glass. You can opt for plaster or plastic finishes, with plaster being able to hold lights if you're looking for a more functional living space.

Foil and wadding is useful in warm weather as it prevents heating entering the building and it doesn't degrade over time.

You do need to combine it with other methods in colder weather as it isn't as effective.

Once you've insulated your roof, you'll want to know how to keep it warm. Here are a few tips:

How to Keep Your Conservatory Warm

Infrared Heating
Not a method of insulation, but a way of heating. You may already heat your conservatory with a plug-in heater, but plug-in heaters and other forms of heating like radiators heat air.

The problem with that is air escapes through the glass panes easily. No matter how much you chase a warmer temperature, there's always going to be a lot of heat escaping the conservatory.

Infrared heating heats objects in the room, like a person or a sofa, which disseminates the heat throughout the room. Heating objects means that damp or mould doesn't appear, and you won't get cold floors like you do with traditional convection heating.

Get a Rug
Rugs act as an insulator between your feet and the floor. So a thick rug will have better insulating properties than a thin rug.

Pay attention to the stitch count, size and material. A rug with a high stitch count will offer better insulation; a bigger rug will provide better insulation and wool offers the best insulation properties (but it's expensive to maintain!).

Underfloor Heating
Underfloor heating is a smart way of heating a conservatory because it provides a steady flow of heat, and heats the conservatory from the ground upwards.

However, there are downsides, which include taking a long time to warm up and cool down, so expect temperatures to fluctuate. You're also limited to tiles and laminate, and sometimes you can only install underfloor heating when you build the conservatory.

Draught Excluders
Draught excluders don't prevent heat entering your home like insulation; they prevent heat passing around it. Even if you insulate your walls and ceiling, you can still feel a nasty draft from the doors, so consider sticking a draft excluder in front of your conservatory doors.

SupaLite Can Help You Insulate Your Conservatory
Want us to replace your conservatory roof for a modern, stylish extra space? Read our benefits and decide whether you want to reap the rewards of a SupaLite tiled conservatory roof.