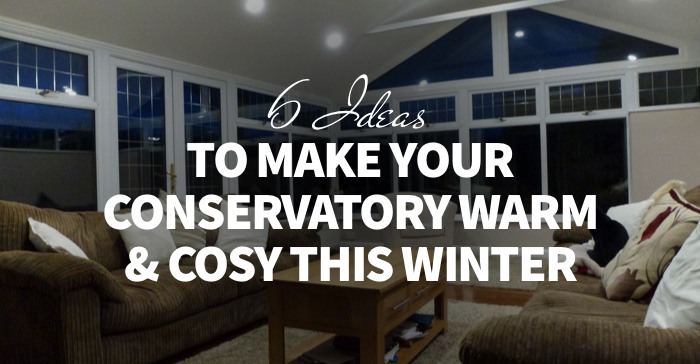 If the drop in temperature has rendered your conservatory useless once again, then it's time to take some steps to make the room warm, cosy and usable year-round!
October has arrived and with it the cold, brrr! While we love that puffer coats and fluffy hats have made a comeback, one place you don't want to be wearing them is in your conservatory. At this time of year, it can become a bit of an abandoned space – after all, no one wants to spend time in a cold, uninviting room.
Here are 6 ideas to make your conservatory warm and inviting throughout autumn and winter…
1. Double glazing
In a room that's made up of mostly windows, insulation is always going to be an issue. However, modern double glazing does a pretty good job of keeping the heat in your home where it belongs – even as the temperature outside plummets.
Replacing so much glass is likely to be expensive, but if you plan on using your conservatory a lot then it's definitely worth the investment.
2. Install a heat source

Heat things up to a cosy temperature by installing a heater in your conservatory. There's a lot of different options when it comes to conservatory heaters, such as radiators, portable electric heaters or a log burning stove.
We'd recommend doing some research into the different heating sources available before you make a decision, but whichever you choose you're guaranteed a much warmer living space.
3. Cosy accessories, warm lights and scents

Autumnal accessories are the key to a beautiful, cosy room! Fluffy cushions, blankets and throws are perfect for curling up with, while pumpkin spiced candles will fill your room with a gorgeous smell of autumn. You can also add flowers, pinecones and wreaths in warm brown and orange tones to elevate your space.
Beautiful, warm lights create a welcoming environment for your room too. Floor lights, table lights and fairy lights are the best way to create a homey feel in your conservatory, where harsh ceiling lights can be harsh during the colder months.
4. New flooring

Having a cold floor can make a huge impact on the temperature of your conservatory. Putting a carpet or floor rug in the room will make a world of difference when it's cold.
If you have the time and the money, you could even consider investing in underfloor heating to make the room really toasty and warm.
5. Hang curtains or blinds

Curtains and blinds are a key part of a home's decor. They add style and privacy, but they're also a simple way to retain heat and prevent draughts.
It's tempting to choose thick seasonal curtains that make you feel warm and cosy, but remember whatever you put up will still be there in summer. We recommend choosing a neutral colour that will work year-round.
6. Install a new conservatory roof

We saved the most effective solution to a cold conservatory for last – installing a new tiled roof system.
Now you might be thinking this option sounds pricey, but a tiled room will actually save you money on heating bills for years to come. It'll also give you access to an extra room in your house all year round, making it a worthwhile investment.
There are several roof options available, which one you choose depends on your personal preferences. For example, polycarbonate roofs aren't very good at insulating even when new, so if you're looking to make your conservatory warmer then we wouldn't recommend installing one.
Instead, go for a tiled roof option. Here are 5 benefits of installing a Supalite tiled roof:
Save money on heating costs
Roof system engineered and tested to meet all building regulation requirements
Transforms a conservatory into an extension
Add significant value to your home
Extends your living & entertaining space
We have a range of options to explore, click the button below to find out more.
Hopefully, the ideas above will help you create a beautiful, warm conservatory that can be used throughout winter. Remember that spending a little extra initially will always pay off in the long run!