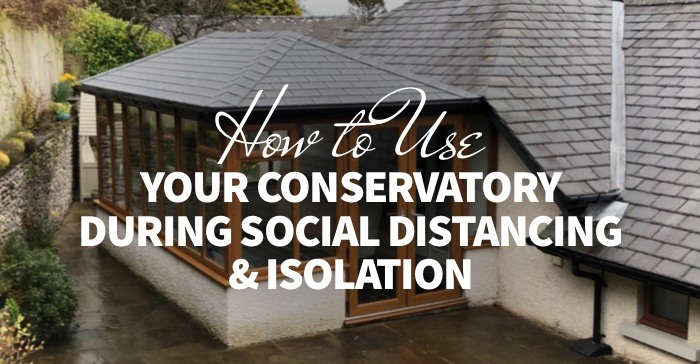 The world is a strange place at the moment. It's the first pandemic in over ten years, and one that has been more fatal than the last virus Swine flu.
The virus has spread throughout the world rapidly, which has caused panic and hysteria in the UK as shops sell out, and people struggle to keep their jobs.
At this point, safety is the main priority for you, and your friends and family – which means paying close attention to social distancing and isolation guidelines.
However, there have been issues with people not taking guidelines seriously, which has resulted in stricter measures.
There's also the issue of public mental health and physical wellbeing to consider. Being cooped up in your home could lead to or alleviate depression, anxiety and other health issues.
Firstly, let's think about how you can protect your mental health during this period of limited contact with the outside world:
Manage Your News Consumption

Reading or watching the news can hurt your mental health if you're predisposed to conditions like OCD or anxiety.
What we're reading and listening to usually isn't good news at the moment, so limit your consumption if you're more sensitive to bad news.
If you're worried about family, keep in contact with them and schedule regular phone or video calls. If you're concerned about contracting the virus, stay at home and try to focus on other activities.
When you do read or listen to the news, stick to proper sources as there's lots of false information being released, primarily through social media sites.
Notice Your Triggers and Monitor Social Media Use
If there's a specific time when you notice a change in your physical or mental wellbeing, try to be aware of when it happens and what causes it. Is it the 6 o'clock news update? When you leave the house? When your kids are in bed?
For those of us who are at home, phone and social media usage will increase, whether it's down to nerves, boredom or an addiction to your device.
For example, hearing a WhatsApp notification may send you into a frenzy. If you're sensitive to these notifications, you could turn your phone off for an hour, so you don't feel compelled to check.
Wash Your Hands Regularly But Not Excessively

For those with OCD, being told to wash your hands frequently could turn into something you obsess over. It's important to remember that advisers are telling you to wash your hands regularly, not every time you get an opportunity.
Recognise that boredom may lead to more obsessive behaviours, even if you don't have a diagnosed condition. As we advised before, be aware of your triggers and create a plan to deal with them.
Action Your To-Do List
If you're at home and feel well, now is an excellent time to action those tasks you've been putting off for months. You could do some work in the garden if the weather is suitable, read the book you've been meaning to read, or have a clear out. Don't do anything that will compromise your health.
How to Use Your Conservatory While You're Isolating

If you have a conservatory that's usable or you're in the process of having your conservatory converted with a SupaLite roof, here's how you can use it during isolation and social-distancing.
1. Entertain the Kids With a Makeshift Playroom
If your kids are of school age and you have more than one, you may not be used to spending so much time together in an enclosed space. Likewise, you may be looking after your grandkids if their parents have to work.
It's normal for some natural tension to build up. Even small things like the kids' toys being scattered around the house can cause arguments. Plus, they can cause painful misplaced steps while they're there!
Containing the play in one area will mean you can keep the rest of the house in a manageable condition, which will lower your stress levels.
This isn't to say you can't spend some quality time playing with your kids, but be aware that constant interaction in isolation can frustrate even the most patient people.
Be wary of the temperature in the conservatory if you don't have a roof conversion, the weather is still quite chilly, and your kids could end up with an illness and struggle to get treatment due to the circumstances.
2. Get Your Blood Pumping With an Exercise Room

It's vital to keep fit while you're at home, lack of exercise is a direct contribution to weight gain and mental health problems such as depression. Children and adults are susceptible to weight gain; it doesn't matter how old you are.
Exercise also contributes to the release of endorphins and other positive hormones, which will keep your spirits up and get some positive thoughts flowing.
There are plenty of exercises you could try, such as yoga, HIIT training or weightlifting. Consider what activities would suit you best, and don't overdo it. If you get injured, receiving treatment could be a long, painful process. If you have kids, you could get them involved to ensure they stay fit.
If you're brave enough, you could venture out into the garden, but you may be a bit chilly to start with. If you don't like exercise so much, but you have a console like a Nintendo Wii, you could use it as a substitute.
3. Get Creative With an Arts & Crafts Room
If you've got an artistic side, you could transform your conservatory into an arts and crafts room. It'll prevent you from sitting in front of the TV for the majority of your isolation, which will improve your mental health.
It'll also give you a sense of purpose and achievement, and who knows, maybe a new job! Get the rest of the family involved if it's something they enjoy doing.
If you can, use the supplies you already have or try to order them online to minimise any social contact.
4. Keep On Track of Work & School With a Study Room

People are being advised to work at home where possible, and GCSE and A-Level exams have been cancelled.
Not having a dedicated working space can be difficult. If your children have revision material for their GCSE and A-Levels, they can continue to revise.
Use a dining table if you have one, failing that you can use a breakfast bar or just get comfy on the sofa. No napping though!
If you're able to work from home you may want to use the conservatory as your office space, so you can maintain concentration and get as much done as possible.
5. Spend Some Quality Time Together at the Dinner Table
If you already use your conservatory as a dining room, you could continue to utilise the space in the same way.
You may be tempted to eat your meals in the living room if isolating has made you a bit lazy, but dining with your family is a great way to break the day up and get everyone interacting.
You don't have to eat every meal at the dining table, but it's good to make a habit of it if you're all off in different rooms doing your own thing, or you've been working and haven't had much time to spend with your loved ones.
6. Use it As Storage for Unwanted Items

We haven't hit the milder temperatures of spring yet, so if your conservatory is still cold and unusable, you could have a clear-out and use the conservatory as a storage facility that's ready to clear when you feel safe enough to go to a refuse centre.
It might not be the best use of an extra room, but clearing out some unwanted items will make you feel you've achieved something with your spare time and will create extra room throughout the house.
7. Give a Lone Relative a Bedroom for a Few Weeks
If the room is warm enough, you could turn it into a guest bedroom, which could be particularly useful if you have any relatives that need a place to stay.
If the family member lives alone and is generally well, your room could help prevent complete isolation. You'll have to use your best judgement for this one, if you feel you're endangering someone by bringing them into your house then avoid it.
Also, you'll need to consider new guidelines and whether you'll be infringing them.
8. Transform the Room into a Library & Reading Room

Reading is a great way to ease any worries you may have about the current situation, it offers a form of escapism and has links to reduced feelings of depression and anxiety, as well as improving general mental health and well being.
Escape to your new reading room and immerse yourself in a book, you could even sort through your bookshelf and pick out a few books you've part-read or always wanted to read.
You can encourage your kids to get involved if you have them, which should get them off the devices for an hour or two.
Use Your Space Wisely & Stay Safe
While creating a space that can help you manage throughout this challenging period is wonderful, we want all our customers to stay safe first. Don't do anything that will compromise your health and stay safe in your home.