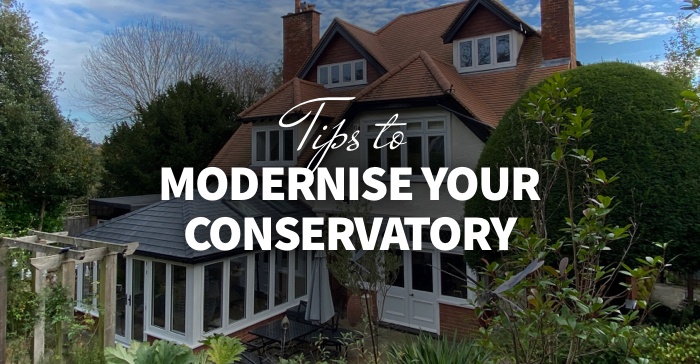 Conservatories can be one of the trickier rooms in your home to decorate. That means that many homeowners tend to leave it as it is and end up with an outdated, out-of-use conservatory.
Conservatories are just like any other room in the house; they need a bit of TLC from time to time to keep them looking their best. This can be as simple as changing the blinds or a full-blown renovation. Here are some of our top tips to modernise your conservatory.
1. Choose a modern colour

One of the simplest and cheapest ways to spruce up your conservatory is by repainting it. Here are some of the most popular colour palettes in 2022, which we think would look great in a conservatory:
Schoolhouse white – the scandi minimalist trend is going nowhere. Opt for a soft schoolhouse white rather than a bold white to avoid feeling too cold in winter.
Warm terracotta – a rich, earthy terracotta will make your conservatory feel warm and welcoming. It will pair brilliantly with bohemian furniture and decor if that's your preferred style.
Breakfast room green-green is having a moment this year, but we expect this to be much more than a passing fad. This light green will help to connect your conservatory with the natural world.
2. Refresh your Furnishings

Many homeowners fall into the trap of using garden furniture in their conservatory. Whilst this may be great in the summer, it often means the conservatory isn't usable in winter. Flimsy garden furniture is just not cosy enough in the cold! Plus, it tends to give off a grandma vibe – no offence if this is your current style.
To modernise your conservatory, invest in a few key pieces of furniture. If you're using your conservatory as a dining room, a built-in dining table and bench will give a sense of permanency and saves space. If you're using your conservatory as a space to entertain, jewel-toned furniture is one of the stand-out interior trends of 2022. A plush, emerald green couch would make the perfect, sophisticated setting for a few cocktails with friends. If you want your conservatory to be a space to relax, how about the trending Japandi style? This style embraces Scandi minimalism and the Japanese penchant for dark woods like cedar and cypress. Include plants like bamboo or bonsai to really nail the trend.
3. Change your conservatory roof 

Grubby polycarbonate roofing is a clear indicator of an ageing conservatory. Not only that, but it also lacks thermal efficiency, so it's freezing in winter and boiling in the summer. There's no point modernising your conservatory if you're not going to be able to use it for most of the year!
Replace your worn polycarbonate roofing with a SupaLite tiled conservatory roof. The SupaLite tiled conservatory roof is fully insulated, which means that it keeps heat in during winter and out during summer. It also completely changes the look of your conservatory, inside and out. On the exterior, you can choose tiles or slates in a colour which match the style of your home. Inside, there will be an immaculate, smooth plastered ceiling. You can also choose to add spotlights and skylights, which will flood the room with light without compromising on warmth. The overall effect transforms your tired old conservatory into a modern hub of the home. Check out our gallery and see for yourself!
4. Technology

A surefire way to modernise your conservatory is by installing the latest technology. Adding voice-controlled lighting and automated blinds will take your conservatory into the 21st century.
Voice-control lighting is relatively inexpensive and can be achieved by buying smart bulbs which connect to your Alexa or Google Assistant.
Automated blinds are more expensive, but will make controlling your conservatory effortless. You could also simply add in an Alexa, Google Nest or wireless speaker system to play your music on command.
5. Drapage 

Windows make up most of your conservatory, which means drapage is very important. Old fashioned curtains or blinds can make your conservatory look dowdy. Changing your drapage is a quick way to give your conservatory a much-needed facelift.
A roman blind is both practical and effective, blocking out sunlight when your conservatory gets a little too bright. Tap into the modern biophilic trend with a bold jungle print roman blind. It'll add a pop of colour to your conservatory and keep a connection with nature even when the blinds come down.
Another modern drapage choice is velvet curtains. These rich, heavy curtains are best reserved for a large conservatory so they don't overwhelm a small space. Velvet curtains will also add another layer of warmth to your conservatory in winter.
6. Lighting

Lighting can really set the tone in any room, including your conservatory. Whilst you can make the most of natural light during the day, you want to be able to use your conservatory at night as well. Opting for new lighting will not only modernise your conservatory but make it more usable too.
The structure of your conservatory can dictate what type of lighting you're able to install, so we've picked a few different modern lighting trends that we love:
Feature lighting – make your lighting the focal point of the room, with a large feature piece. This could be a traditional chandelier or something more quirky and modern.
Statement lamps – you may not be able to get a proper light fitting in your conservatory, so opt for a statement lamp instead. Go for a gold or brass base to contrast with dark walls, or choose a bold print on the lampshade to stand out.
Spotlights – spotlights offer a sleek, stylish lighting solution to your conservatory. They maximise space in smaller conservatories, as there's no bulky chandelier or lamps in the way.
Natural materials – this would look great in a beach or bohemian themed conservatory. Look for a rattan or bamboo light fitting or lamp.
7. Landscape the garden

Create a modern, open feel to your conservatory by landscaping the garden. This is an important step in any conservatory renovation – after all, there's no point modernising your conservatory if it's going to be hidden away in an overgrowth. Depending on the size, shape and incline of your garden, you could make use of decking, potted plants and shrubbery to create a seamless connection between the indoors and out.
Invest in a SupaLite tiled conservatory roof
Transform your conservatory with a SupaLite tiled conservatory roof. You can choose from a range of tiles or slates to match your home – so no more grubby polycarbonate roofing! Inside, there will be a smooth, seamless ceiling with spotlights to maximise space.
So, modernise your conservatory with a SupaLite tiled conservatory roof.