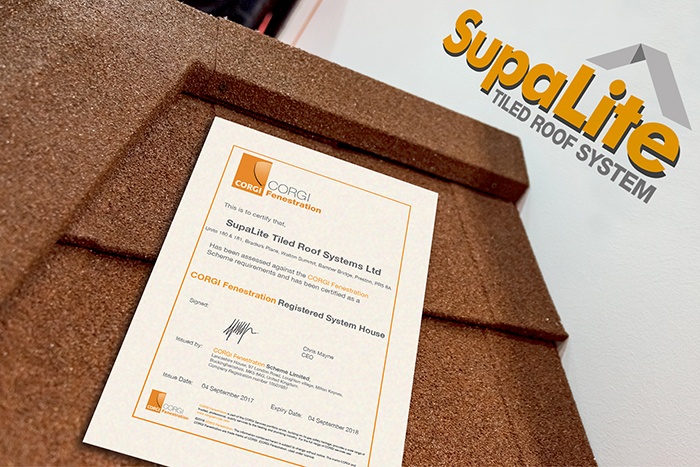 SupaLite Tiled Roofs Systems Ltd, has successfully achieved scheme approval to join CORGI Fenestration, a scheme designed to promote the benefits of qualified professional and best practise organisations from the Fenestration industry.
SupaLite manufacture and supply the highly acclaimed, SupaLite solid tiled roofing system direct and through its network of fabricators. The CORGI Fenestration scheme was a perfect addition to the company's portfolio of high-level manufacturing standards and only promotes further it commitment to ensuring it provides its customers with the highest level of quality products and support in selling them.
David Watters, SupaLite, Managing Director commented: "When we were introduced to CORGI Fenestration earlier this year, we knew the scheme was an ideal fit for our business and hopefully our customers.
The scheme endorses products to be fitted only by qualified professionals, and demands strict and auditable quality management from manufacturers.
"Our fabricator network has been built on an understanding that our partners believe in quality, providing a superior product. Inclusion in the scheme means we are the first manufacturer and supplier of solid tiled roof systems to be accepted." David concluded.
As part of its commitment to ensuring the scheme benefits customers, SupaLite has created a new internal role to provide support and guidance achieving the high level of auditing needed to be registered on the scheme. Alan Watters will oversee the introduction of the scheme to its fabricators and installers.
The company aim to promote the benefits of the scheme via its website and marketing material over forthcoming months, signing up its growing number of recognised Approved Installer Network to take advantage of the schemes popular consumer branding.
For more information regarding SupaLite's solid roof system or how to become and an Approved SupaLite Supplier, call 01772 828060 or go to www.supaliteroof.co.uk