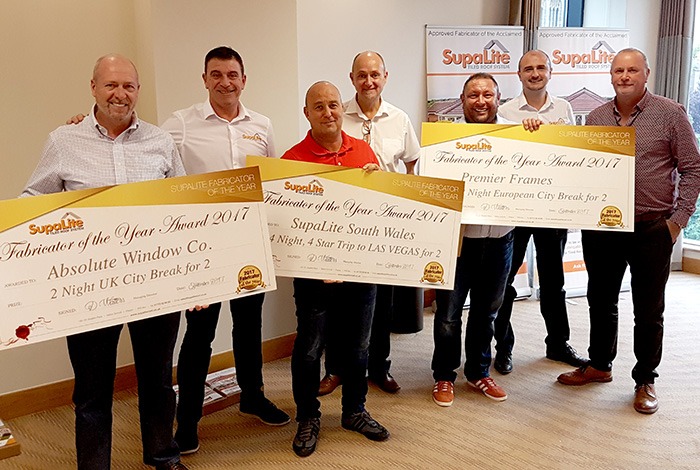 SupaLite, the premium manufacturer and supplier of solid roof tiled systems, held its 3rd Annual Fabricator Conference in September and awarded three SupaLite fabricators for their incredible growth over the last 12 months.
The all-day conference took place at Jurys Inn, Derby with different representatives from SupaLite's growing number of fabricator network. Proceedings kicked-off with Managing Director, Dave Watters welcoming the group and introducing members of SupaLite's sales, operations and technical team.
With a packed agenda of information to go through, the SupaLite team advised on the many key issues its manufacturers wanted to be address, including; the launch of new and alternative products, the development of its Approved Installer Scheme, marketing support and the inclusion of the newly launched CORGI Fenestration Scheme.
Dave Watters commented: "We have been working hard over the last 12 months, since we met to gain the confidence of our fabricators, offering a full package of products, service and competitive pricing. Holding the conference, helps us to catch-up and share thoughts with our manufacturers, it is also a good time to recognise those individual businesses who have contributed to making SupaLite a success over the last 12 months."
On conclusion of the event, Dave and his team awarded three of the attending fabricators for their astounding performance on sales growth – achieved compared to the previous financial year. Absolute Windows, Manchester, came in 3rd place with over 79%, Premier Frames, Leicester achieved 2nd place with 101% and the overall winner was SupaLite South Wales, who has seen a whopping 187% growth.
We are proud of the work all our fabricators do
"We are proud of the work all our fabricators do, but these three companies were worthy winners," Dave continued, "this is the first time we have handed out SupaLite fabricators awards at the conference, but we wanted to show our appreciation to our manufacturers, and prove to others contemplating using the SupaLite range of roofing systems just how successful they could be by joining our network of fabricators.
For more information regarding SupaLite's solid roof system or how to become and an Approved SupaLite Supplier, call 01772 828060 or go to www.supaliteroof.co.uk
Image: From left to right Tony Marsden – Absolute Windows (3rd place), James Casby – Supalite, Jonathan Thomas – Supalite South Wales (winner), Alan Watters -Supalite, Mick Bowden – Premier Frames (2nd place), Dave Watters – Supalite