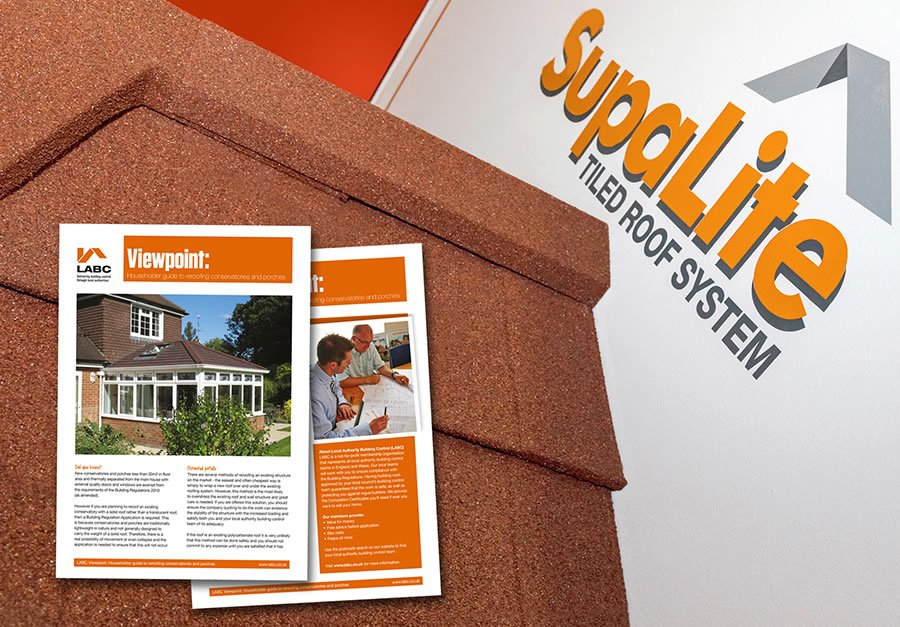 A DIFFERENT VIEW-POINT
Supalite looking to educate consumers to the dangers of a 'wrap-over'
Leading tiled roof manufacturer Supalite is now issuing all potential customers with a copy of the LABC produced 'Viewpoint' home-owner advice leaflet to ensure they are aware of potential dangers when buying a replacement roof for their conservatory.
Explains Operations Director for Supalite Steve Hacking "Replacement tiled roofs for conservatories are a reasonably new product. As such there is a limit to the amount of information available to homeowners looking to replace their existing conservatory roof with a new tiled roof and they need to be aware that there are product types in the market which do not necessarily meet all the criteria they should".
"I am particularly talking about 'wrap-over' roofs – where an installer will simply wrap a new tiled roof over an existing conservatory roof installation. They look for all the world as good as a full replacement, but there are inherent potential faults in the installation from day one".
"The original conservatory will have been designed and manufactured to carry a certain weight-loading for the roof. A 'wrap-over' roof installation adds to that weight – effectively the conservatory has two roofs, and it was never designed to withstand that weight from a structural point of view".
"Under Building Regulation guidelines all solid replacement roofs need to be submitted for approval by the appropriate council authorities and this entails the provision of structural calculations to ensure that the new roof takes into the account the strength of the original conservatory".
"To simply fit a new roof on top of an existing structure is fraught with danger and is the roof solution most likely to cause over-stressingof the existing walls and in extreme circumstances can lead to issues such as collapse".
"It is important that suppliers such as ourselves help to get the message out to home-owners who are potentially considering going down this route. It is not about Supalite – it is about the consumer, and using an independent third party home-owner leaflet to provide the information gives it total credibility".
"LABC has responsibility for ensuring that building regulations are met at all times with regards to replacement solid roofs and it is important we give home-owners access to the information they provide".
LABC Viewpoint
LABC provide the following home-owner guide with information regarding
replacement conservatory roofs and the regulations required.
For more information about LABC www.labc.co.uk