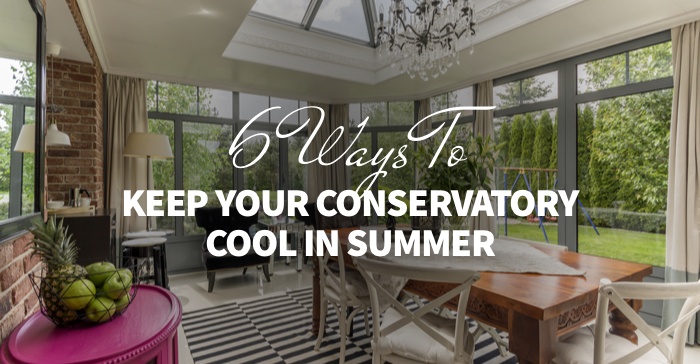 Relaxing in your conservatory in the summer months is supposed to be a pleasant experience, feeling sweat trickle down your forehead while you're trying to enjoy a sweet cold drink and soak in the sun can be an unpleasant experience.
When you built your conservatory, you may not have anticipated how difficult it is to use in warm weather, and you've either let it become a storage or laundry room, or you only use it when the temperature is just right.
You don't have to take a Goldilocks approach to use your conservatory – with the right tools you can keep your conservatory fresh in the summer months, so you can enjoy that ice-cool drink and put your feet up without breaking a sweat.
Why Does My Conservatory Get So Hot?

The central concept and the most beautiful thing about having a conservatory are that it creates unspoiled views of your garden and the sky. However, the very characteristic makes the conservatory also ruins the experience and enjoyment.
While the main idea of the conservatory is to let light into the building, the conservatory also allows in solar energy which is what causes the temperature to rise. Unfortunately, this makes the heat challenging to endure.
It's important to remember that summer months mean longer days and more sun (presuming the rain holds off), so you can end up with a toasty conservatory if you don't manage the heat correctly.
Consider which direction your conservatory faces too, if you're south-facing you'll get more sun than a north-facing conservatory.
What is the Best Way to Keep a Conservatory Cool?
A Tiled Conservatory Roof

You can exercise other options, but the best way to keep your conservatory cool is by installing a tiled roof and replacing the glass or plastic that covers it right now.
Because glass is a poor insulator, conservatories tend to heat up when the temperature is hot and cool down when the temperature is cold.
The addition of a roof blocks any sunlight from hitting the top of the roof and entering the room (unless you install a fabulous lantern or window to let some sunshine in), which means the heat is already reduced.
The colour of your tiles will also reflect how well your conservatory repels heat; lighter colours are more reflective and darker colours absorb more heat. SupaLite has a range of tile colours to choose from.
Not only does a tiled roof help to regulate the temperature of the room, but it also:
Allows you to create an extra living space
Increases the value of your home
Makes your conservatory more energy-efficient
Gives your home the wow factor!
While a tiled roof will be the more expensive option on this list, you're gaining another room for a fraction of the price that an extension would cost, which is around £15,000.
Consider a tiled roof if any of the following apply:
You aren't getting the most out of your conservatory and like the idea of another available room.
You aren't attached to the idea of maintaining a high amount of glass.
You don't want to waste money on fans or other methods of cooling the room.
Watch the video to discover how a SupaLite Roof System works:
Here are some solutions you can use in tandem with a SupaLite Roof System:
1. Install Blinds

Blinds serve two functions in the fact they make the room look great and keep out any excess light you don't want in the room.
Having blinds installed on the roof panels and the side glass panels wouldn't add the same aesthetic, but is still doable.
Blinds can also be used with a tiled roof, so your conservatory would look even more like the extra space you desire! Shutters can also act as an insulator during winter, so you've got both seasons covered.
There are many types of style and material and types of blinds available, so you have plenty to choose from.
2. Add Cooling Film to Your Windows

Cooling film is an adhesive layer you can stick to the glass in your conservatory, which reflects about 80% of the sun's rays, reducing glare and blocking the sun's harmful rays.
It's relatively easy to install (presuming you don't have a big conservatory) which makes it an ideal option for those who want a low-cost solution.
Again, cooling film can be used with a tiled roof system and adds to the room's insulating properties. It's well worth considering if you already have a roof because of its UV protection properties.
We should note that viewing the conservatory from the inside isn't possible as the film is silver on the outside so that you could damage the aesthetic of the room. You'll also want to check the supplier of the film and ensure you get a qualified installer, so you don't cause any damage to the windows.
3. Install Air Conditioning

If you want a more robust method of making your conservatory cooler you could install air conditioning. While the other solutions will discourage heat from entering the building, air conditioning seeks to combat the heat with cold air.
We have to admit you can't beat a fresh, cool swish of air when you're cooling down a warm room. Consider the type of air conditioning you want to get; a fan is different fro installing a proper air conditioning unit.
You'll also have to consider the size of the unit and the noise it emits, and you could ruin the atmosphere in the room if your unit is too noisy. Also, if you intend to make the room usable all year round, you should think about getting a heating system as well.
While you could get an air conditioning system as a replacement for a tiled roof system, a tiled roof system will also help in the winter months, whereas air con won't without nay heating support.
4. Buy Some Light Furnishings

Dark colours absorb more heat, so any dark woods like mahogany or walnut will hold more heat than lighter woods such as pine. Dark metals and plastics will also soak up more heat than light ones.
When you're thinking about seating in your conservatory, it's best to avoid leather as it retains heat well. You'll know about it when you sit on the sofa, and it gives your bum a shock!
As well as cooling the room down, the 'feel' of the room will be more refreshing with lighter shades such as pastel. Furnishings are more of a supporting method; you can't use it as the primary way of keeping your conservatory cool as any scorching weather will still heat the room.
5. Improve Ventilation

We're sure you've probably tried this before… but opening the doors and windows is a practical way of getting more air circulating in your conservatory.
If there isn't a breeze, this method can be ineffective; it depends on how hot the weather is and how cool the breeze is.
You could get a conservatory fan installed, vents or a skylight, but by the time you've put all your money and effort into doing that you may as well get a new roof.
6. Tree Planting & Shrubbery
If you want to get tactical, planting trees and shrubbery can shield your conservatory from the summer sun, you'll have to determine where the sunlight direction is and whether a tree or shrub will protect you.
There's going to be some guessing in this one, and you could end up blocking out any sunlight altogether if you aren't careful. It's a brilliant way to welcome more nature and wildlife into your garden, and trees and shrubs look beautiful when they're kept well.
You'll need some gardening experience, or you'll have to employ someone that does, plus you'll either have to buy the tree from a nursery or wait for it to grow.
What to Ask Yourself Before Making a Decision
When picking the best option to suit your needs, you should consider various factors:
What's your budget?
Do you need your conservatory to be usable in the summer and the winter?
Have you got any heat reduction methods in your conservatory now, and how are they working for you?
How quickly do you need to make your room habitable? For example, a SupaLite conservatory roof can be installed in 3-4 days.
Are You Ready to Make Your Conservatory Cool?
We've shown you a mixture of options that will keep you from baking in your toasty conservatory. If you'd like to explore the prospect of a SupaLite Roof System, get in touch with our team, or you can view our FAQs and determine whether it's the correct option for you.