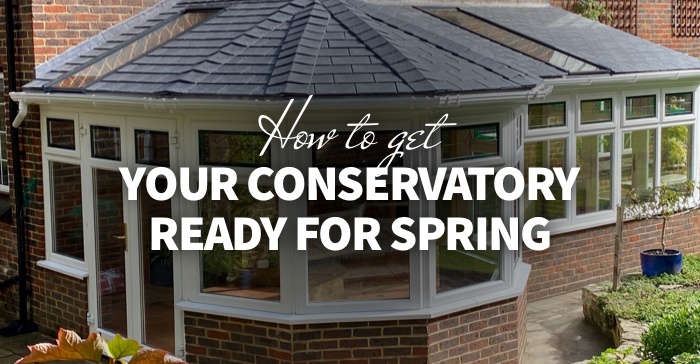 The first signs of spring are finally starting to show! That means lighter nights, warmer weather and little chicks chirping in the trees. Where better to enjoy this magical season than your conservatory?
Spring Is Here
Whilst the weather certainly improves in spring, it's Britain. We still get rainstorms in the peak of summer! That means it's probably too early in the year to be sitting out in the garden, where you're exposed to the elements. Instead, settle down in your conservatory where you can still feel connected to the natural world, without having to brave the cold, wind and rain.
If you don't have a Supalite tiled conservatory roof, your conservatory has probably been abandoned throughout the winter months, as it became too cold to enjoy. And after being out of use for so long, it may feel rather unwelcoming when you try to sit in there now. That's why we've compiled some tips for getting your conservatory ready for spring.
Give It A Spring Clean

Old conservatories can feel more like igloos when it comes to winter, as they become impossible to use in cold weather. That means they're disinhabited from November to March, and often become a bit of a dumping ground over the festive period. In fact, you might even have your Christmas tree in there now! So before you can start using your conservatory again, you'll need to do some spring cleaning.
Declutter Your Space
If you've been using it as storage, the first thing you'll need to do is have a good clear out. Any clothes could be kept in storage boxes under your bed instead. Unused furniture could be given a new lease of life through upcycling, being sold online or donated to a charity shop if you don't have the room to keep them. And if your conservatory is currently full of boxes of books, a bookshelf will keep books on hand whilst maximising floor space.
Clean Your Windows
The whole point of having a conservatory is to enjoy the view, but that can't happen if you've got dirty windows. You can take care of mucky fingerprints on the inside, whilst most window cleaners will clean your conservatory for an extra charge. It could also be worth checking whether your conservatory roof and guttering need a clean whilst you're at it.
Time To Get Cleaning
Once you've taken care of the windows, you can finally get down to cleaning. After being out of use for so long, dust will have settled on every surface, so you'll need your trusty furniture polish, brush and mop. Once it's clean, it will finally start feeling like a space you can use again.
Let The Light Shine In

Open The Drapes
Make the most of those light spring nights by maximising the light that enters your conservatory. This begins with your choice of curtains or blinds. We'd generally suggest opting for a vertical or Venetian blind for your conservatory. Curtains only give you two options: open or closed. Vertical or Venetian blinds, on the other hand, allow you to adjust them to let in just the amount of light you want, without compromising on privacy. Choose a white, cream or another pale colour to optimise the amount of light let in. Dark colours can make the room feel gloomy and contain too much heat in the summer.
Light and Bright Decor
You can also choose decor and furniture to increase that light, bright feeling in your conservatory too. Before decorating your conservatory, you should come up with an overarching colour scheme to tie the room together. If your goal is to maximise light then you should choose a light colour like white, cream or pale green. That doesn't mean every item in the conservatory should be that colour, but it should be threaded throughout. For example, if you chose a pale green theme you might paint the walls a pale green and furnish it with a cream sofa and armchair, but use a mix of cream and green cushions to tie into the theme.
Install a Skylight
Some homeowners, whilst admiring the practical benefits of installing a tiled roof on their conservatory, think that it will make it dark and gloomy. This couldn't be further from the truth! Your conservatory will still be exposed to light from all angles through the conservatory walls and there is even an option to include a skylight, so you can still get light from above too.
Add Greenery

Nothing says spring like the first bloom of flowers! Your conservatory should be no exception to this, as plants should flourish in the natural light and warmer temperature. They also purify the and further that feeling of being half inside, half outside. You'll have to do your research as to which plants, flowers and succulents are most likely to thrive in your conservatory and bear in mind that some may need moving out of there in winter.
Consider how you'd like to arrange your plants in the conservatory. Will they go on the floor? Or will they sit at the centre of the coffee table? Or perhaps you could hang them in boho-style baskets? You don't want to overwhelm the room with plants until you're left with very little space for yourself, so plan accordingly.
Invest in A Tiled Roof

Frustratingly, many homeowners only get use out of their conservatory during the milder months of spring and autumn. You don't want to invest all this time (and money) into making your conservatory a beautiful space, only for it to become too hot to use in a few months time. There is a solution! Transform your conservatory into a space that can be used year-round by investing in a Supalite tiled conservatory roof.
A tiled conservatory roof maintains your conservatory at a comfortable temperature year-round. This means that it won't overheat in summer, nor does it lose all its heat in winter. It transforms your conservatory from no-man's land into an extension of the home. It could be a second lounge, a home office or a kids chill-out zone. This doesn't just improve functionality, but can actually add value to your home.
So if you're ready to transform your conservatory into a year-round heart of the home, you can locate one of our Supalite approved installers below: