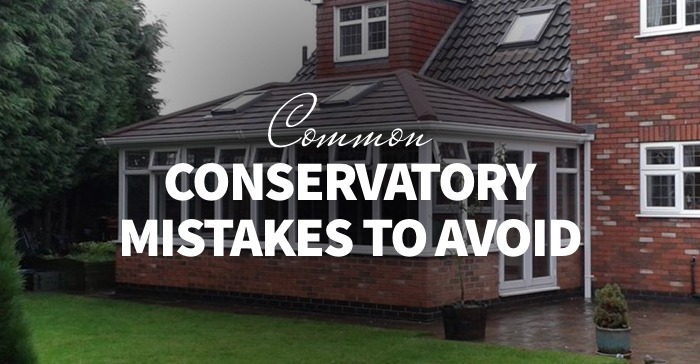 So you're thinking about adding a conservatory to your property, or perhaps just revamping the one you have – great idea! If done right, a conservatory is a great addition to your home, providing an extra room that you can do all sorts with.
To make your conservatory dreams a reality, there are a few common problems and mistakes you'll want to avoid.
Common conservatory problems
Common problems that people have with their conservatory include:
Too cold in winter 
Too hot in summer
Condensation 
Leaking gutters 
Faulty doors
How to avoid problems with your conservatory

How can you avoid these problems? With thorough planning, careful product selection and proper construction by a reputable installer, you should never experience these issues in your new conservatory. Here are some key things to consider…
Thermal efficiency
Neglecting to think about temperature control is one of the biggest mistakes you can make when building a conservatory. What's the point in having an extra room that's rendered useless for half the year due to extreme temperatures?
The last thing you want is your new space to be too cold in winter and swelteringly hot in summer! Thankfully, this is unavoidable if you choose the right products.
One of the best ways to insulate a conservatory is with a tiled roof. A tiled roof will keep heat in during winter and block strong sun rays during summer, providing a controlled temperature year round. You can even install a glass feature so you still have the feel of a light and airy room! Take a look at the roof options we have available at Supalite.
You also need to make sure that the windows you install are double glazed and are sealed correctly to prevent any draughts and excessive heat loss.
Maintenance Required

It can sometimes be tempting to go for the cheapest option when it comes to materials for your conservatory. However, quality will help keep the amount of maintenance required to a minimum. Things like aluminium guttering rather than plastic and self cleaning glass will save you a lot of work in the long run.
What type of roof do you want?
The roof you choose is arguably the most important factor when building a conservatory. Polycarbonate roofs might be cheap, but they let in the cold, don't retain heat, are prone to leaks and don't look as great as a glass option either.
Tiled conservatory roof options have a ton of benefits, including adding value to your home, maintaining a comfortable temperature and improving security – not to mention giving your home the wow factor.
We definitely recommend plashing out on a tiled roof with a glass feature – it's worth the extra cost.
Furniture

Large pieces of furniture will need a backing wall to stand against, so make sure to consider that when planning the layout of your conservatory. If you already have a sofa or bookshelf you'd like to go in the room, make space for it when drawing up the plans.
Layout and positioning
It's also important to think about how the positioning of your conservatory will affect your property. Will it block views? Get in the way of neighbours? Will you lose too much or your garden? These are all important external issues to think about before you do anything.
The internal layout of your conservatory is also a key consideration. Think about where you position doors, switches, plugs so you can get the most out of your new room. You want the room to function smoothly, for its intended purpose. Whether that be a home office, extra lounge, extension of your kitchen or a garden room, consider what will go where before setting your plans in stone.
Lighting

Some people find bright light uncomfortable, if you're one of them then you should consider installing anti-glare glass and blinds. Others love natural light and want as much as possible, so a glass roof feature like the Supalite Sky Elevate would be a great addition.
Start planning your transformation today
If you're ready to revamp your conservatory or are building one from scratch and want to include a new tiled roof, get in touch with one of our specialists, who'll help you get started. You can view our brochure here.