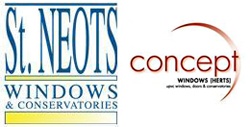 Our Recent Work
St Neots Windows & Conservatories
The St Neots Windows team share one single important goal, which is to provide all our
customers, whether old or new, with the best level of service that we can possibly achieve,
to complement the proven quality of the extensive St Neots Windows product range.
Every St Neots Windows team member has a part to play in achieving this goal, and no
individual's role is ever underestimated. With every new contract we must strive to improve
the level of service and the quality of the end result. This is achieved through regular
reviews, critical analysis of completed projects, internal and external training of our staff,
acquirement of all recognised industry quality accreditations, and, most importantly,
constant customer feedback.
Ever since St Neots Windows was established, the core values of the
Company have been to provide our customers with the most advanced products on the
market and the highest levels of customer service. Many years later, with
thousands of satisfied customers, we promise that these core values will never change and
we will continue to strive for complete customer satisfaction. Our products have already
proven to stand the test of time, as our very first customers can still testify today.