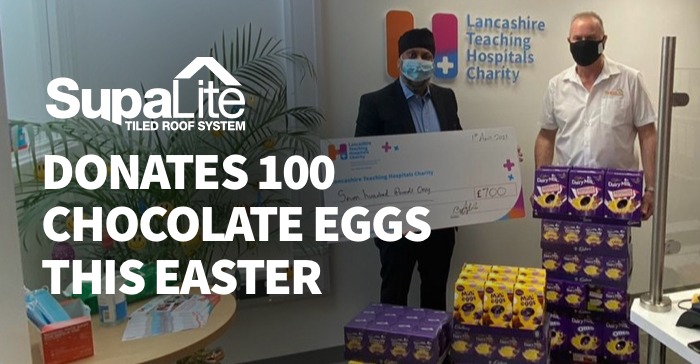 Our Chairman, David Watters, has been getting into the Easter spirit this week by donating over 100 Easter Eggs to the Lancashire Teaching Hospitals Charity!
Thanking the NHS staff this Easter

The donation comes as part of a fundraising effort by Baldev Singh, who, along with his colleague Derek and dog Prince, walked from Broughton to Preston City Centre and back again whilst in fancy dress to raise funds for the charity as a thank you for the immense efforts of our NHS and its staff during the Covid-19 pandemic.
Baldev commented: "Pausing for the minute's silence last week, on the anniversary of the first lockdown and watching NHS staff outside Royal Preston Hospital, was a poignant moment to us all.
"It was an opportunity to think about loved ones lost or who suffered from the virus, including, sadly, some of our colleagues; a moment to appreciate all those who put their own lives on the line to help others.
"Doing a little Covid walk from Broughton to Preston and around Garstang was just a little way to say thank you & to show our appreciation to our local NHS."
Baldev's mission was to fundraise to buy Easter eggs and arts & craft material for patients in Royal Preston Hospital recovering from Covid-19 during the Easter holidays.
He has managed to raise a brilliant £700 for the charity, and here at SupaLite, we were only too happy to get involved by donating the choccy treats to help cheer up those spending their Easter getting treatment in hospital and to put a smile on the face of the front-line staff working tirelessly to care for those affected.
Donate and help a good cause

You can donate to Baldev's cause by following this link. Or, visit the Lancashire Teaching Hospitals Charity website to find out more about the charity and how to get involved: https://lthcharity.org.uk/.