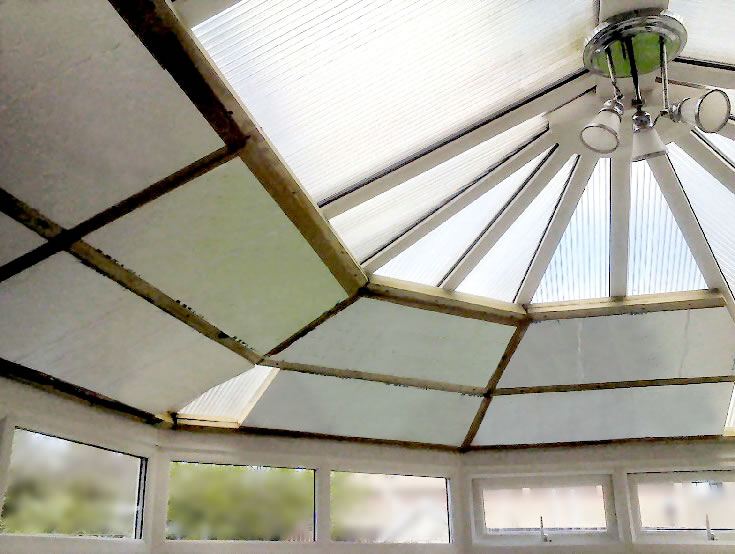 If a homeowner is looking to replace the existing roof on their conservatory, probably their first port of call is Google, with a search term such as 'Solid Roofs for Conservatories'.
I did this this afternoon and found, on the first page, references to Supalite, Ultraframe, Equinox, Guardian and Celsius (other systems are also available, just not on that first page). Also on that first page was a Technical Guide from the LABC on 'Solid Roofs on Conservatories and Porches' and one from the Cambridge Network saying 'Replacing a conservatory roof with a tiled one can damage your wealth'. A brief look through these two aforementioned pages should tell every prospective buyer of a solid roof about the pitfalls and regulations. If this is the case, why are 'Cladovers' apparently outselling the genuine article?
The answer has to be clever selling and attractive prices coupled with the homeowner putting their head deeply in the sand! Let's take a simple scenario. We have an ageing conservatory with a polycarbonate roof and, understandably, we'd like it replaced and a solid roof will make it more habitable, year round. A quotation from any of the recognised roof manufacturers through one of their approved installers will, undoubtedly, be more expensive than a quote from an unaffiliated installer. Why? Because they may well be offering a 'Cladover'.
The problem comes when the homeowner thinks they are being offered a named brand of roof but the installer is simply picking up timber, insulation material, tiles and plasterboard from their local trade counter and assembling a roof on the conservatory. Sometimes this may be done without even removing the polycarbonate roof but rather sandwiching this between the batons, felt and tiles and plasterboard and some insulation that is fixed underneath. From all appearances it would look pretty good. The snag is that the original PVCu structure that carried the polycarbonate roof, or even a glass roof, is probably not structurally robust enough to take the solid roof. The homeowner has a roof for half the price of the branded product, and it looks OK. However, what happens when something goes wrong? A heavy fall of snow or even the PVCu structure simply bending under the load? No problem, there's the 10 year warranty and Building Control Certificate…..ah! they haven't got either of those.
A quick 'phone call to Building Control at Leeds Council and I was told immediately that replacing a conservatory roof with a solid roof was subject to Building Regulations. When I told the gentleman I was from Glass News and why I was asking, he knew all the branded solid roof products and the need for corner post supports to ensure that the roof was self-supported rather than relying on the PVCu window structure. I asked if they had any issues with solid roofs not having Building Regs and his reply was a no. And what about 'Cladovers', I asked? "We usually pick those up" he said, "when they try and sell the house." Now Leeds seem to be on the ball, but I also understand that some large authorities are unclear as to whether Building Regs are required. There is also the issue of 'passing off' whereby the installer purports to be offering branded solid roofs and even display company logos on their website but are actually selling 'Cladovers'. Some of the roof system companies have challenged these people and got them to remove claims to be offering their roofs, usually with an apologetic: "Sorry guv, it's a fair cop, we'll take the logo down."
Is this 'Cladover' issue a big problem? I'm led to believe that the market for solid roofs, through the branded systems, is around 700 roofs per week. However it is also estimated that around 1,000 'Cladovers' are sold every week. I'd say that was a big problem. I've heard of companies being 'phoned by a homeowner, saying: "I'm having one of your roofs fitted at the moment but there seems to be a lot more timber involved in the construction than I saw on your website." The request for some photographs to be sent through from their mobile 'phone soon establishes that it isn't the roof they thought it was. The "Leave it with me" comment from the householder probably indicates a major row with the installer or a call to Trading Standards. And it appears Trading Standards in some areas know of the problem. You may ask why the homeowner can't see that the new roof is a 'Cladover'? It's not unusual for a working couple to leave the installer to do the job while they are both out at work and, without cutting a hole in the plasterboard ceiling, who's to know what's hidden inside?
Am I being a bit paranoid about the 'Cladover' issue? By all means tell me if I am. My concern is a collapsed 'Cladover' on top of little Jimmy, who is playing with his bricks in the conservatory, and the finger will be pointed at that 'double glazing' lot and their dodgy dealings, all over again.
I don't think any of us need that.