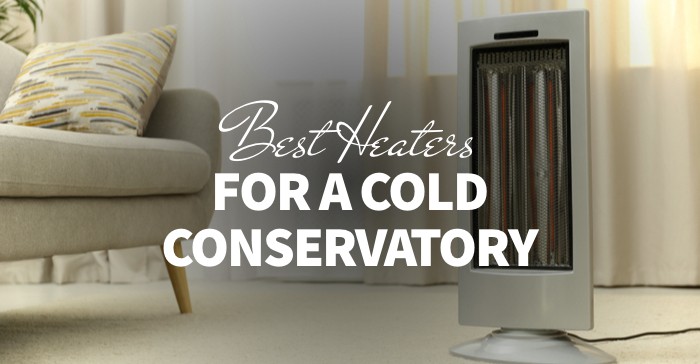 A conservatory can be a great addition to your home, so it seems a shame to lose that space when the temperature drops.
Conservatories are a great space to enjoy the scenic views of your garden and bask in the warm sunlight in summer, but winter views can be equally as beautiful. Bright blue skies and snow covered trees, you might even spot a red breasted robin if you have a bird feed. The only problem is the temperature.
It's no secret that conservatories get cold in winter, it's to be expected of a room made mostly out of glass. If you don't have a reliable source of heat it's easy for your conservatory to lose its appeal entirely – after all, no one wants to sit in the freezing cold no matter how pretty it may be.
Luckily, there are plenty of solutions to a cold conservatory, the simplest being a heater! To help you choose the best heater for your conservatory, we asked our experts for their advice and wrote it all down right here.
What type of conservatory heaters are there?
Portable heater

Portable heaters can be the cheapest and most energy efficient option available when it comes to heating your conservatory. Plus you have the benefit of being able to move it around the room as and when you like.
Many high end devices have hot and cold functions, perfect for a conservatory climate year round. However, you can purchase much cheaper portable heaters that will keep you warm in winter.The only downside to these is that they can be something of an eyesore, particularly in small conservatories.
Expand your central heating
Legally, a conservatory has to have its own separate heating, independent from the rest of the house. If you want to get around these building regulations and expand your central heating system, then your conservatory will become an extension by law. With this comes the appropriate building regulations for an extension, so that's something you'd need to look into.
We recommend checking with your local authority building control department for advice if you're considering this option.
Electric wall mounted radiators

Electric radiators cost a little more to run than a gas radiator, but they are easier to install, manage and they comply with building regulations for a conservatory. They come in an array of shapes and styles, so you're sure to find one that matches your decor, making them an overall successful heating solution.
However, if your conservatory is made up mostly of glass, you might struggle to find a wall to mount one on.
Underfloor heating
Underfloor heating is expensive, but amazing! A stone cold floor under your feet can make the room feel even colder than it is, which is exactly what you don't want in a conservatory in winter. Underfloor electric heating is not only great under your feet, it'll heat the whole room up too!
Wood burner
There's no feeling quite like the warmth of a real fire. They're gorgeous to look at and are an extremely efficient way of heating your conservatory as and when you need to.
There are quite a lot of fire safety regulations that come with installing a wood burner, so speak to a professional about what you'll need before setting your heart on this heating option.
Insulate your conservatory
There's little point heating up your conservatory if it's not able to retain that heat. Not only is it money down the drain, but it's not good for the environment either.
The best solution to a cold conservatory is to replace the existing roof with a tiled roof, which will give you a controlled temperature whatever the weather. The tiled roofs we have here at Supalite have outstanding thermal efficiency and a hardwearing design, so you can enjoy your conservatory all year round. Click here for more information on the Supalite roof.
We'd also recommend installing double glazed windows in your conservatory, this well help to prevent heat escaping.
5 things to consider before buying a conservatory heater
1. Efficiency

For both financial and environmental reasons, energy consumption is an important thing to consider. If this is something you're particularly conscious about, it's a good idea to choose a heater that you can easily control with a thermostat or turn it off when you need to. Electric heaters tend to be the most energy efficient.
2. Size
The size of your space will obviously determine the size of the heater you choose. You want to choose a heater that will fit in your conservatory without taking up too much space, but you also want to make sure it heats up the whole room efficiently.
A small conservatory will require less heat, so you can get away with a heater with a lower watt output. However a large space will need a more powerful heater, so make sure to consider that before you buy.
3. Usage

Another important thing to consider is how you will use the heater. If you're just looking for a boost of heat on the odd occasion you decide to use your conservatory, then your options are pretty open. On the other hand, if you use your conservatory frequently and want to have it readily warm at specific times in the day, choosing a heater with a timer might be a good idea.
4. Safety
Safety is always a top priority! While all reliable heaters come with modern safety features, heaters can get hot, so if you have small children or pets they need to be kept out of reach.
5. Price

When you think of price, your mind will automatically jump to the upfront cost of a heater, but it's also important to think about running costs. So, what kind of heaters are cheapest to run? In short, electric heaters are the cheapest to run. If you're looking for an electric heater for your conservatory, but don't know what exactly to look for, check out this blog.
Whatever heating system you use, make sure to insulate your space for maximum warmth. Speak to a member of the Supalite team to find out more.